Main content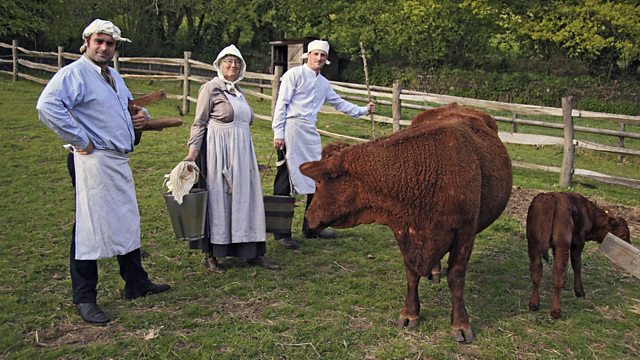 With Empire Day approaching, a paddle steamer comes to the valley. The team pull out all the stops to put on a party for the tourists, including making clotted cream and scones.
It's May and, with Empire Day approaching, a very special boat comes to the valley.
The paddle steamer Monarch is arriving: one of only three in the country that are still operational. It's the first time such a vessel has arrived at Morwellham Quay in 80 years.
Back in the Edwardian period, thousands of tourists began coming to the Tamar Valley by paddle steamer every summer. The combination of reduced working hours and greater mobility encouraged a new form of tourism - day-tripping. Workers from towns and cities like Plymouth flocked to rural spots like Morwhellham Quay for festivities.
Local farmers cashed in on the visitors, selling them cream teas, fresh fruit, postcards and anything else they could think of, and also used the steamers to send their produce to market.
So historian Ruth Goodman and archaeologists Alex Langlands and Peter Ginn pull out all the stops to put on a party for the tourists: they've got to milk a cow who has never been milked before, take lessons in traditional clotted cream making from the instructors at a 'travelling dairy school' and learn to make a special Devon accompaniment to cream teas - the highly popular 'cut round', ie a Devonshire version of a scone.
On top of that, they must harvest their strawberries to get them to market on the paddle steamer.
They must also come up with more things to sell: drawings of the Tamar Valley, bouquets of flowers and ice cream - not easy to make when you don't have a freezer.
Credits
| Role | Contributor |
| --- | --- |
| Producer | Naomi Benson |
| Director | Naomi Benson |
| Executive Producer | David Upshal |
| Participant | Ruth Goodman |
| Participant | Alex Langlands |
| Participant | Peter Ginn |