Main content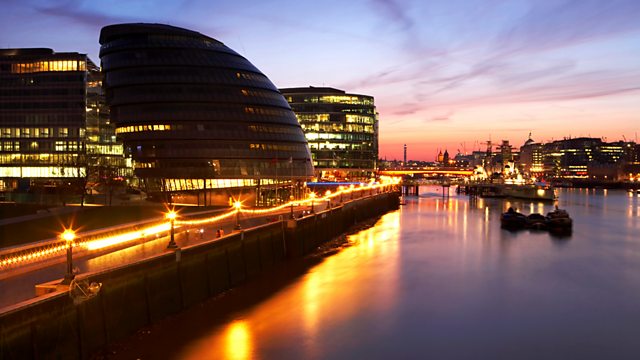 River Thames
The River Thames was recently announced as the winner of an international environmental award. Helen Mark hears about the river's dramatic transformation.
The River Thames was recently selected as the winner of the international Theiss River Prize, an award which celebrates outstanding achievement in river management and restoration. Fifty years after being declared biologically dead, the Thames scooped the prize thanks to a dramatic turnaround in its environment. Environment organisations now say that the Thames is the cleanest it has been in more than 150 years, with almost 400 new habitats being created to allow wildlife back to the river which is now teeming with fish, and home to returning salmon, otter and sea trout populations.
Helen Mark begins an exploration of the Thames at Woolwich in South East London with author, Iain Sinclair, who has described the river as a story of ruin and revival and the very lifeblood of London. Travelling west along the river to the Millennium Bridge, Helen meets up with Fiona Haughey. Fiona describes herself as an inter-tidal archaeologist and the river as one of the world's largest self-excavating sites and Helen joins her in a beachcombing search for some of the river's neolithic roots.
Further along the river banks at Putney Bridge, Helen finds a group of volunteers from environmental charity, Thames 21. Led by Vic Richardson, the group are working on Project Habitat, an initiative to enhance certain areas of the River Thames by building artifical islands and river banks to encourage suitable habitats and attract wildlife.
Leaving the city behind, Helen heads out into the Berkshire countryside where she meets Alastair Driver, conservation manager with the Environment Agency. Cycling along the river through Sonning-on-Thames, Alastair tells Helen how this particular stretch of water near his home now runs crystal clear in the summer and how sheer hard work along the whole of the Thames has resulted in this amazing clean-up story.
Finally, Helen joins volunteer river warden, Dick Mayon White from the River Thames Society, a charity which aims to protect and preserve the river. Dick takes Helen for a stroll along a stretch of the river near Port Meadow and explains why it means so much to him and why it is so important to preserve the river for future generations.
Podcast
Countryside magazine featuring the people and wildlife that shape the landscape of Britain