Main content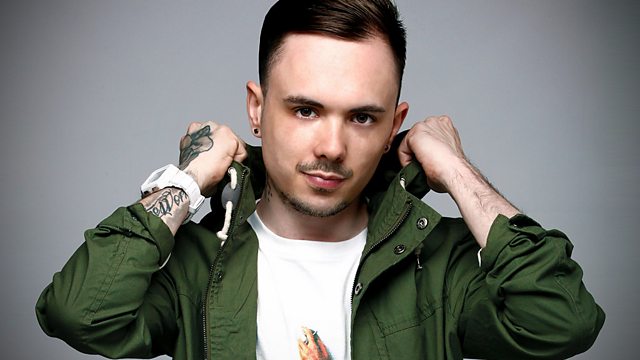 Crissy takes over daytime!
Check out what Crissy usually gets up to in the small hours.
Crissy Criss set his alarm clock a few hours earlier and took over 1Xtra from 1 until 4pm. It may have been the afternoon but there was no slowing up on the heavy basslines as Crissy dropped no less than 127 tracks!
We had Hospital Records supremo Danny Byrd live in the studio and he also brought along a couple of cheeky exclusives.
All that plus Harry Shotta dropped some bars over a bunch of curveball tracks, such as Lady Gaga, Usher, Jason Derulo and Nirvana. Phew!
Last on
Music and featured items
Danny Byrd Guest Mix

The superstar DnB producer passes through the studio to drop a Guest Mix and catch up wt Crissy.

Duration: 25:06

Harry Shotta Freestyle

Hear him drop some bars for Crissy Criss in the 1Xtra Studios.

Duration: 20:33

Danny Byrd

Judgement Day VIP

Nu Elements & Decimal Bass

The Thing feat Erb & Dub (Supreme Being Remix)

Rowney & Props

Hold Me (Heist Remix)

Nero - Me and You (Dirty Phonics Remix)

Netsky

Tomorrows Another Day VIP

Total Science

Red Lines (Break Remix)

Danny Byrd

We Can Have It All

DANNY BYRD MIX

Danny Byrd

Ill Behaviour (feat. I‐Kay)

DJ Nut Nut

Special Dedication (Sigma Remix)

General Levy & M-Beat

Incredible (2011 Refix)

Serum

Souped Up (Heist Remix)

Danny Byrd

Liberation feat T-Lace

Chase

Blind Faith (Loadstar Remix)

Dminds & Jakes

Gold Chain

Danny Byrd

Tonight feat Netsky (Cutline Remix)

Plan B

Love Goes Down (Danny Byrd Remix)

BEST OF 2010 MIX

Noisia & EdRush and Optical

Brain Bucket

Taxman

Evasion (VIP Remix)

Twisted Ind

Donkey Punch (Sub Zero Remix)

Pendulum

Salt in the Wounds

Loadstar - Link to the past

Xample & Lomax - Remember

Total Science & S.P.Y - Gangsta

Danny Byrd

Ill Behaviour (feat. I‐Kay)

Die & Interface

Bright Lights

DJ SS

We came to entertain (Sub Zero Remix)

High Contrast

In-A-Gabba-Da-Vida

HARRY SHOTTA D&B MIX

Dub Foundation

Time to Burn (Drumstep Mix)

The Prototypes

Cascade (Cutline Drumstep Mix)

Furlonge

This Love (Interface Remix)

Zen

Rubarb & Custard (Taxman Remix)

HARRY SHOTTA PARTY MIX

Stevie Wonder

Superstition

The Whispers - It's A Love Thing

Lady Gaga

Just Dance (feat. Colby O'Donis)

Nirvana

Smells Like Teen Spirit

Danny Byrd

We Can Have It All

Tinie Tempah

Frisky (feat. Labrinth)

Jay-Z - Dirt of Your Shoulder

DJ Zinc - Wile Out (Marky & S.P.Y. Mix)

JUNGLE MIX

Boogie Times Tribe

Dark Stranger

M Beat & General Levy

Incredible

Tom and Jerry

Maximum Style III

Camo & Krooked

Nothing Older Than Yesterday

Shy FX & T Power

Feelings

Sigma

Baltimore (feat. Jenna G)

Brookes Brothers

Beautiful feat Robert Owens

NEW YEARS REVOLUTION MIX

Loadstar - Link To The Past

Juda & Krakota

Solid Shout

Jayline & Ruffstuff

Radium Rays

Artificial Intelligence

Blind Eye
Broadcast