Main content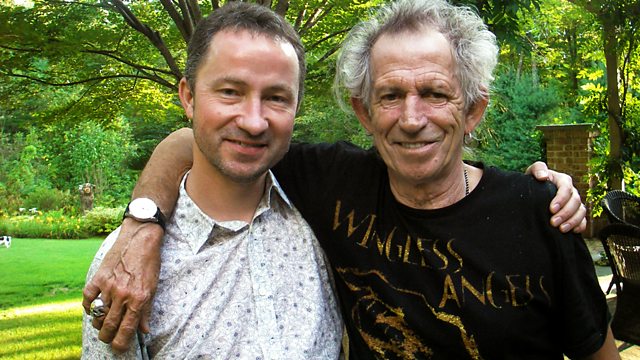 At Home with Keith Richards
It's 'all back to Keith's', as the legendary Rolling Stone talks about his incredible life and times, in the relaxed surroundings of his Connecticut living room.
We've seen plenty of Keith Richards, the rock 'n' roll maverick, and the legendary Rolling Stone has been commanding even more headlines than usual since the publication of his autobiography. This conversation with Paul Sexton, recorded at Keith's Connecticut home, adds a personal dimension. For Radio 2 listeners, it's "all back to Keith's" as he chats about his incredible life and times in the relaxed surroundings of his own living room.
Sexton has interviewed Richards, and his fellow Stones, on countless occasions over the past 15 years and this is reflected in the candid and often amusing nature of the exchange. Keith vividly describes controversial moments, memorable encounters, guitar heroes and proud achievements - including a memoir that debuted at No. 1 on the New York Times Best Sellers list.
Richards describes his house and surroundings as he sits in front of a portrait of himself, revealing that it was created and then presented to him by a close, and very famous, friend. He discusses his devotion to the guitar, including the surprising confession: "I'm not a lead guitar player, basically, and never wanted to be". He also talks about his all-time favourite players: "I wanted to meet Scottty Moore more than I wanted to meet Elvis Presley." He also remembers the solo on a Stones classic that was critiqued by a certain good friend called John Lennon.
The wide-ranging chat also covers the first record Keith ever bought, comic escapades on the road, his adulation of icons from Robert Johnson to Chuck Berry, how the Stones continue to extend the frontiers as rock's ultimate survivors, what they might be doing in 2011, and much more besides - including his thoughts on Mick Jagger, his creative partner of nearly half a century.
The two hours are packed with colourful stories of an unparalleled life and illustrated with some of the best music of the past 50 years, made both by Keith and some of his own idols.