Main content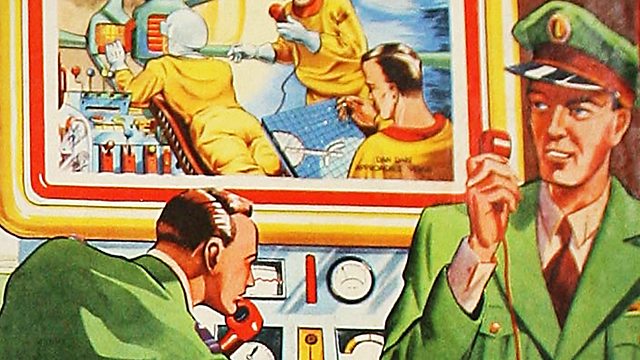 Eagle: The Space Age Weekly
Sir Tim Rice explores the lasting appeal of British comic magazine Eagle and impact of its flagship hero, Dan Dare. From 2010.
Sir Tim Rice explores the lasting appeal of British magazine Eagle and the impact of its flagship character Dan Dare.
Eagle ran in two main incarnations between 1950 and 1994. Dan Dare, often referred to as "Biggles in space", is regarded in some circles as the greatest British science fiction hero of the 20th century
In this feature we chart the influences behind the comic, and explore the life of its creator Marcus Morris, a fascinating man who began the publication because of his concern over 'horrific' US comics which presented 'disturbing' storylines which he felt 'corrupted British youth'.
The programme reveals how Dan Dare was originally envisaged as a space chaplain before becoming the popular astronaut. It also examines the work of illustrator Frank Hampson who introduced technology years ahead of its time. Hampson knew the Space Age was on its way while serving in the Second World War and seeing the German VI rockets. He made the Dan Dare strips as realistic as possible by dressing his team in spacesuits and uniforms, basing the look of the fictional characters on his colleagues.
We reveal how the stories had educational value and, along with Dan Dare, we look at other Eagle offerings including Shakespeare's plays and the Greek myths which ran as comic strips.
Featuring contributions from author Philip Pullman, Sally Morris the daughter of Eagle Creator Marcus and Eagle Society member David Britton.
First broadcast on BBC Radio 4 in 2010.
Last on
Broadcasts