Main content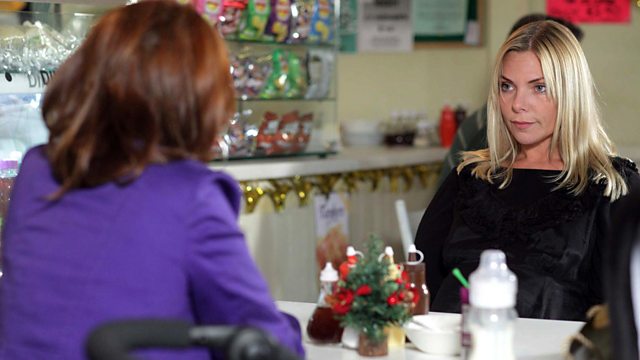 17/12/2010
Glenda vows to uncover the identity of her attacker, while Ronnie is troubled when a lucrative job offer takes Jack abroad. Meanwhile, Ryan's life hangs in the balance.
Ryan's delirious. Janine comforts Ryan, but is rocked when he says 'I love you, Stacey'. Janine pours a huge dose of the drugs into a drink for Ryan and makes him swallow it. As Ryan's condition deteriorates, Janine almost calls 999.
Unable to cope, she leaves the house, Kat sees her and insists she come and cover Ryan's shift. Stacey tells Kat she's washing her hands of Ryan, but, after spending the day with Ronnie, decides to call him. Ryan desperately tries to get to the phone, but collapses on the floor. Later, Stacey bangs on the door of Ryan and Janine's flat, and shouts for Ryan. Stacey's about to give up, when Ryan staggers out the front door and collapses at her feet. Stacey takes Ryan in her arms as Janine arrives.
Peter stays out all night. Glenda arrives home from hospital with a badly sprained ankle and bruised ribs, insisting on wearing a neck collar. Glenda suggests to Ian that Jane or Peter could have pushed her.
When Peter comes home, Ian is wary and overfriendly, unsure if Peter knows about his affair. Glenda then tells Phil that Ben, Shirley or Jay could have pushed her, Phil suggests it was all her own work. Phil accuses Jay of pushing Glenda, but Jay insists he's innocent.
Dot ropes Jane into joining the choir, Kim signs herself and Denise up. Kim flirts with Fat Boy.
Ronnie's still set against Jack taking the Dubai security job. Ronnie ropes Stacey into helping her shop for buggies. Over coffee Stacey reminds Ronnie how lucky she is. Ronnie gives Jack her blessing to go to Dubai.
Bianca and Denise are aghast when their Christmas saving scheme 'Yulesave' collapses. Carol realises that far from warning Whitney off Connor, Bianca's wearing some of his knock off jewellery.
Credits
| Role | Contributor |
| --- | --- |
| Janine Malloy | Charlie Brooks |
| Ryan Malloy | Neil McDermott |
| Stacey Branning | Lacey Turner |
| Ronnie Branning | Samantha Womack |
| Jack Branning | Scott Maslen |
| Max Branning | Jake Wood |
| Glenda Mitchell | Glynis Barber |
| Ian Beale | Adam Woodyatt |
| Jane Beale | Laurie Brett |
| Peter Beale | Thomas Law |
| Phil Mitchell | Steve McFadden |
| Shirley Carter | Linda Henry |
| Ben Mitchell | Joshua Pascoe |
| Jay Mitchell | Jamie Borthwick |
| Whitney Dean | Shona McGarty |
| Carol Jackson | Lindsey Coulson |
| Bianca Butcher | Patsy Palmer |
| Ricky Butcher | Sid Owen |
| Kat Moon | Jessie Wallace |
| Jean Slater | Gillian Wright |
| Denise Johnson | Diane Parish |
| Kim Fox | Tameka Empson |
| Dot Branning | June Brown |
| Arthur 'Fat Boy' Chubb | Ricky Norwood |
| Morgan Jackson-King | Devon Higgs |
| Writer | Jake Riddell |
| Executive Producer | Bryan Kirkwood |
| Director | Terry Dyddgen-Jones |