Main content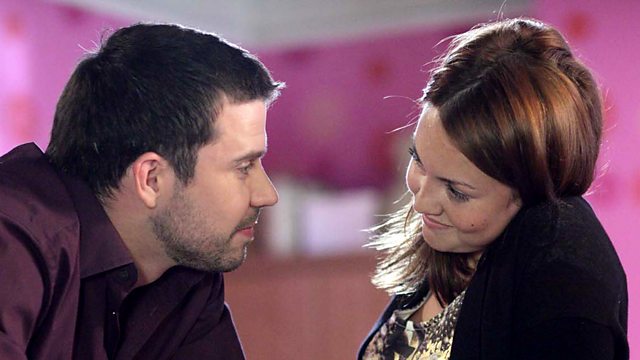 06/12/2010
Ryan and Stacey enjoy a risky rendezvous back at the Slaters', unaware that a looming Janine is planning to catch them in the act.
Janine makes a bet with Ryan over who can steal the best Christmas present. Kat and Alfie prepare for Alfie's 'Countdown to Christmas' in the Vic. Stacey's earring is found in the barrel store, Kat knows she was in there with Ryan. Kat sends Ryan to the Slaters' to see Stacey, who's preparing for a social worker visit. Ryan plays the perfect dad for the social worker, and Stacey and Ryan bond over Lily. Janine goes to the Vic to find Ryan. Alfie tells her Ryan went to the Slaters' earlier. Janine is suspicious and steals Kat's keys from behind the bar. Ryan and Stacey put Lily to bed in Stacey's room. They share a kiss; things get more heated. Kat realises Janine knows where Ryan is and rings Stacey to warn her, but there's no answer. Janine lets herself into the Slaters' and climbs the stairs to Stacey's bedroom.
Phil sends Jay to find Ryan, he needs him to do another jewellery deal with Connor. Jay is jealous when Phil tells Ian, no one comes before Ben. Jay can't find Ryan and goes to meet Connor alone. Connor short changes Jay and pins him up against the wall. Connor warns Jay that if Phil finds out, next time he won't be so gentle.
Billy wants to go and meet his son. Julie urges him not to but Billy sets out anyway. Julie realises where Billy has gone and hurries after him. Billy knocks on the door of an expensive looking house. A man opens the door and Billy blurts out that he's his dad.
Peter wants to share his birthday party with Whitney. Ian thinks she's not good enough for him. Pat lends Whitney money to pay for her t-shirt delivery but the t-shirts have been misprinted.
Credits
| Role | Contributor |
| --- | --- |
| Janine Malloy | Charlie Brooks |
| Ryan Malloy | Neil McDermott |
| Stacey Branning | Lacey Turner |
| Kat Moon | Jessie Wallace |
| Alfie Moon | Shane Richie |
| Mo Harris | Laila Morse |
| Billy Mitchell | Perry Fenwick |
| Julie Perkins | Cathy Murphy |
| Jay Brown | Jamie Borthwick |
| Phil Mitchell | Steve McFadden |
| Connor Stanley | Arinze Kene |
| Whitney Dean | Shona McGarty |
| Peter Beale | Thomas Law |
| Ian Beale | Adam Woodyatt |
| Jane Beale | Laurie Brett |
| Pat Evans | Pam St Clement |
| Arthur 'Fat Boy' Chubb | Ricky Norwood |
| Maria de Costa | Judy Browne |
| Roger Green | Daniel Brocklebank |
| Writer | Kim Revill |
| Executive Producer | Bryan Kirkwood |
| Director | Audrey Cooke |