Main content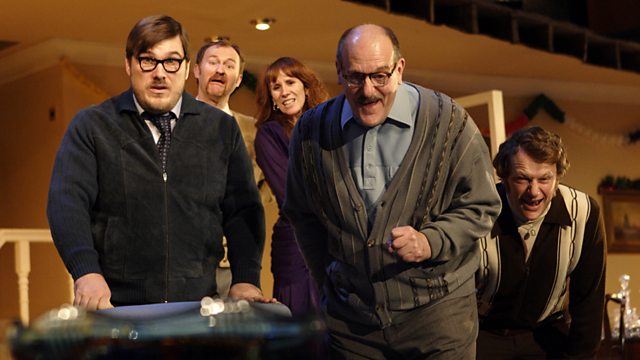 With Denise Mina, Ben 'Doc Brown' Smith, and Matthew D'Ancona
Tom Sutcliffe and guests Denise Mina, Doc Brown and Matthew D'Ancona review the cultural highlights of the week, including a revival of Ayckbourn's festive farce Season's Greetings.
Tom Sutcliffe and his guests - crime writer and playwright Denise Mina; comedian, writer, and former rapper Ben "Doc Brown" Smith; and Journalist Matthew D'Ancona - review the cultural highlights of the week.
The National Theatre's seasonal offering is a revival of Season's Greetings, Alan Ayckbourn's farcical yet brutal comedy which stars Mark Gatiss, Catherine Tate, and Marc Wottoon.
Angelina Jolie and Johnny Depp star in The Tourist, a thriller from Florian Henckel von Donnersmarck, writer and director behind the award-winning film The Lives of Others. The screenplay is co-written by Julian Fellowes (Gosford Park) and Christopher McQuarrie (The Usual Suspects) and has a supporting cast including Timothy Dalton, Paul Bettany and Stephen Berkoff.
For the first time in Europe, the robes worn by emperors and empresses of the Qing Dynasty - the last ruling dynasty of China - are being shown at the Victoria and Albert Museum in London. The exhibition features over 50 garments and accessories from the collection of the Palace Museum in the Forbidden City in Beijing.
Tessa Hadley's new novel The London train is written in two parts. Each is a story in its own right, but brought together in a single moment. The stories examine the lives of Paul and Cora who both learn someone close to them has gone missing.
Episodes is a new seven-part sitcom from acclaimed writing partnership David Crane (Friends) and Jeffrey Klarik (The Class). Sean and Beverly Lincoln - played by Green Wing's Stephen Mangan and Tamsin Greig - are the successful producers of a British television show who are seduced by a powerful US executive to remake their hit show for an American audience, with disastrous results.
Producer: Ella-mai Robey.
Subscribe to the Saturday Review podcast
Podcast
Sharp, critical discussion of the week's cultural events, with Tom Sutcliffe and guests