Main content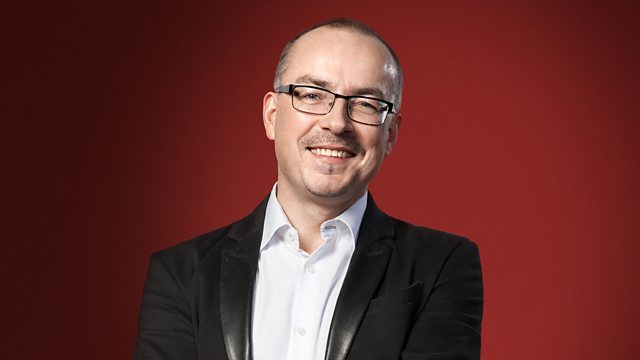 Building a Library: Monteverdi Vespers of 1610
With Andrew McGregor. Including Building a Library update: Monteverdi Vespers of 1610; Conductor Riccardo Chailly; Brahms Variations for piano; Disc of the Week: Bach: Cantata No 61.
CD Review Andrew McGregor with what's new in the world of classical music recordings including:
09.05am
TCHAIKOVSKY: The Nutcracker
Berlin Philharmonic / Simon Rattle (conductor)
EMI Classics 6 31621 2 (2 CDs)
BACH: Cantatas BWV. 63, 191, 65, 123, 154, 124, 32
Claron McFaddon, Magdalena Kozena (soprano), Bernarda Fink, Sally Bruce-Payne, Michael Chance (alto), Christoph Genz, James Gilchrist (tenor), Dietrich Henschel, Peter Harvey (bass) / The Monteverdi Choir / The English Baroque Soloists / John Eliot Gardiner
Soli Deo Gloria SDG174 (2 CDs)
"Nuit Sacrée"
Christmas music by Bach, Gounod, Handel, Saint-Saens, Pachelbel, Mozart et al.
Sandrine Piau (soprano) / Nathalie Stutzmann (contralto) / Pavol Breslik (tenor) / Johannes Weisser (bass) / Accentus / Concerto Koln / Laurence Equilbey (conductor)
Naïve V 5216 (CD)
"A Minstrel Christmas"
Music by Susato, Michael Praetorius, Kircher et al
Speilleyt – Early Music Freiburg
Christophorus CHR 77335 (CD)
Cristofaro CARESANA: L'Adoratione de' Maggi; Demonio, Angelo e Tre Pastori etc.
I Turchini / Antonio Florio
Glossa GCD 922601 (CD)
09.30am Building a Library Update
Simon Heighes assesses recent releases of Monteverdi's 1610 Vespers, compares them with some of the other currently available recordings, and makes a personal top recommendation.
10.20am Christmas releases
"Puer natus est"
Tudor music for Advent & Christmas by Tallis, Taverner, Byrd, White, and Sheppard
Stile Antiquo
Harmonia Mundi HMU 807517 (Hybrid SACD)
"A Song in Season"
RUTTER: Sacred music inc. Carol of the Magi
The Cambridge Singers / Royal Philharmonic Orchestra / John Birch (organ) / John Rutter (conductor)
Collegium COLCD 135 (CD)
10.35am Interview
Andrew talks with conductor Riccardo Chailly about following in Mendelssohn's footsteps at the Leipzig Gewandhaus, and his ongoing series of Bach recordings.
With extracts from:
MENDELSSOHN "Discoveries": Symphony No.3; Piano Concerto No.3; Hebrides overture
Roberto Prosseda (piano) / Gewandhausorchester / Riccardo Chailly (conductor)
Decca 4781525 (CD)
BACH: St Matthew Passion
Johannes Chum (Evangelist), Hanno Muller-Brachmann (Jesus), Christina Landshamer (soprano), Marie-Claude Chappuis (alto), Maximilian Schmitt (tenor), Thomas Quasthoff (bass), Klaus Hager (bass) / Thomanerchor Leipzig / Tolzer Knabenchor / Gewandhausorchester / Riccardo Chailly (conductor)
Decca 478 2194 (2 CDs)
BACH: Brandenburg Concertos Nos. 1-6
Gewandhausorchester / Riccardo Chailly (conductor)
Decca 478 2191 (2 CDs)
BACH: Christmas Oratorio
Carolyn Sampson (soprano), Wiebke Lehmkuhl (alto), Martin Lattke, Wolfram Lattke (tenor), Konstantin Wolff (bass) / Dresden Chamber Choir / Gewandhausorchester / Riccardo Chailly (conductor)
Decca 478 2271 (2 CDs)
11.20am New Releases
BRAHMS: Handel Variations; Rhapsodies Op.79; 6 Pieces Op.118; 4 Pieces Op.119
Murray Perahia (piano)
Sony 88697 727252 (CD)
BRAHMS: Complete variations for solo piano
Garrick Ohlsson (piano)
Hyperion CDA67777 (2 CDs)
"Abendmusik"
SCHUMANN: Bunte Blatter Op.99; CLARA SCHUMANN: Variations Op.20; BRAHMS: Variations on a theme by Schumann
Mirare MIR 115 (CD)
SCHUMANN: Humoresque; Studies for pedal piano Op.56; Morning Songs Op.133
Piotr Anderszewski (piano)
Virgin Classics 50999 948625 2 (CD)
SCHUMANN: 4 Sketches Op.58; Studies Op.56; 6 Fugues on BACH Op.60
Thomas Trotter (organ)
Regent REGCD347 (CD)
11.55am Disc of the Week
"Nun komm!"
BACH: Cantatas BWV. 61 & 97; ERLEBACH: Ouverture VI
The Bach Players
Hyphen Press Music HPM 003 (CD)