Main content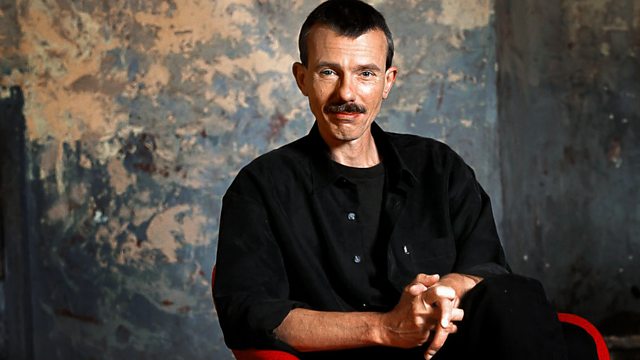 14/12/2010
Jonathan's Swain's selection includes John Adams's Violin Concerto performed by Chloë Hanslip and the Orchestra della Svizzera Italiana.
Jonathan's Swain's selection includes John Adams' Violin Concerto performed by Chloë Hanslip and the Orchestra della Svizzera Italiana
1:01 AM
Adams, John [1947-]
Concerto for violin and orchestra (1993)
Chloë Hanslip (violin), Orchestra della Svizzera Italiana, Nicholas Milton (conductor)
1:37 AM
Corigliano, John [1938-]
Capriccio in G, from 'The Red Violin Caprices' (1997)
Chloë Hanslip (violin)
1:39 AM
Rimsky-Korsakov, Nikolai (1844-1908)
Capriccio Espagnol (Op.34)
BBC Philharmonic, Yan Pascal Tortelier (conductor)
1:56 AM
Reicha, Anton (1770-1836)
Oboe Quintet in F major (Op.107)
Les Adieux
2:25 AM
Handel, Georg Friedrich (1685-1759)
Cleopatra's aria: 'Piangerò la sorte mia' - from 'Giulio Cesare', Act 3 Sc 3
Emma Kirkby (soprano), Academy of Ancient Music, Andrew Manze (director)
2:31 AM
Saint-Saëns, Camille (1835-1921)
Concerto for piano and orchestra no.5 (Op.103) in F major 'Egyptian'
Pascal Rogé (piano), UNAM Philharmonic Orchestra, Ronald Zollman (conductor)
3:01 AM
Mozart, Wolfgang Amadeus (1756-1791)
Symphony No. 25 in G minor (K.183)
Danish Radio Sinfonietta/DR, Adam Fischer (conductor)
3:25 AM
Mendelssohn, Felix (1809-1847)
Octet for strings in E flat (Op.20)
Leonidas Kavakos, Per Kristian Skalstad, Frode Larsen & Tor Johan Böen (violins), Lars Anders Tomter & Catherine Bullock (violas), Öystein Sonstad & Ernst Simon Glaser (cellos)
3:57 AM
Britten, Benjamin (1913-1976)
Canadian Carnival, Op.19
Edmonton Symphony Orchestra, Uri Mayer (conductor)
4:11 AM
Bach, Johann Sebastian (1685-1750)
Partita for keyboard No.5 in G major (BWV.829)
Glenn Gould (piano)
4:25 AM
Dvorák, Antonín (1841-1904)
Carnival overture (Op.92)
Slovenian Radio and Television Symphony Orchestra, Samo Hubad (conductor)
4:35 AM
Domenico da Piacenza (fl.1439-c.1450)
Pizochara - for treble viol, small lute and tambourine
Ensemble Claude-Gervaise, Gilles Plante (director)
4:39 AM
Corelli, Arcangelo (1653-1713)
Trio sonata in C major, (Op.3, No.8)
Il Seminario Musicale, Gérard Lesne (director)
4:46 AM
Pylkkänen, Tauno (1918-1980)
Suite for oboe and strings (Op.32)
Aale Lindgren (oboe), Finnish Radio Orchestra, Petri Sakari (conductor)
4:55 AM
Herbert, Victor (1859-1924)
Moonbeams - a serenade from the 1906 operetta 'The Red Mill'
Symphony Nova Scotia, Boris Brott (conductor)
5:01 AM
Schubert, Franz (1797-1828)
Overture in the Italian Style (D.590)
Saarbrücken Radio Symphony Orchestra, Marcello Viotti (conductor)
5:09 AM
Rachmaninov, Sergey (1873-1943)
Italian Polka
Ruta Ibelhauptiene and Zbignevas Ibelhauptas (pianos)
5:12 AM
Goldmark, Károly (1830-1915)
Scherzo for orchestra in E minor (Op.19)
Hungarian Radio Orchestra, Adam Medveczky (conductor)
5:18 AM
Anon (arr. Geoff Richards)
Bailèro
Phoenix Chamber Choir, Ramona Luengen (conductor)
5:21 AM
Anonymous (18th century), Naples
Quando nascette Ninno (Neapolitan shepherd's song)
Zefiro Torna
5:25 AM
Wolf, Hugo (1860-1903)
Intermezzo for string quartet in E flat major (1886)
Ljubljana String Quartet
5:36 AM
Grainger, Percy (1882-1961)
Colonial Song
Symphony Nova Scotia, Georg Tintner (conductor)
5:43 AM
Bach, Carl Philipp Emanuel (1714-1788)
Sinfonia in D major (Wq.183 No.1)
Slovenicum Chamber Orchestra, Uros Lajovic (conductor)
5:54 AM
Beethoven, Ludwig van (1770-1827)
String Quartet in G major (Op.18 No.2)
Bartók Quartet (archive recording)
6:18 AM
Haydn, Joseph (1732-1809)
Symphony No.73 in D major 'La Chasse' (H.1.73)
Romanian National Chamber Orchestra, Horia Andreescu (conductor)
6:39 AM
Hummel, Johann Nepomuk (1778-1837)
Piano Quintet in E flat major/minor (Op.87) (1825)
Tobias Ringborg (violin), Ingegard Kierkegaard (viola), John Ehde (cello), Håkan Ehrén (double bass), Stefan Lindgren (piano).