Main content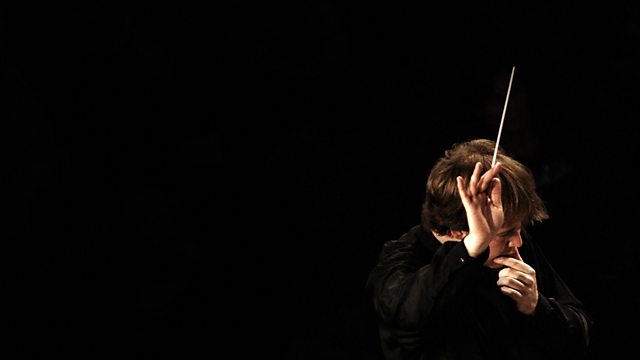 BBC Philharmonic - Tchaikovsky, Mussorgsky
Concert in which Vassily Sinaisky conducts the BBC Philharmonic. Tchaikovsky: Hamlet. Mussorgsky, orch Shostakovich: Songs and Dance of Death. Tchaikovsky: Symphony No 4.
Presented by Petroc Trelawny
The BBC Philharmonic's Chief Guest Conductor Vassily Sinaisky leads the orchestra in a brooding programme of 19th century works from his homeland.
Tchaikovsky was fascinated by the work of Shakespeare, and his Fantasy Overture inspired by one of the playwright's greatest anti-heroes is one of several musical homages Tchaikovsky paid the bard. The fatalistic atmosphere of Hamlet is evoked in the ominous musical setting, while the plaintive love theme on the oboe recollects Ophelia.
The dark atmosphere persists with Mussorgsky's Songs and Dance of Death which explore death's many guises, including in infancy, war and indeed by alcohol, which the composer knew all too well. Mussorgsky's alcoholism contributed to his death before he had the chance to orchestrate the song cycle but Shostakovich duly obliged in 1962.
Vassily Sinaisky concludes the concert by returning to Tchaikovsky with his dramatic Fourth Symphony, whose opening fanfares the composer bleakly described as representing "fate, the force of destiny, which ever prevents our pursuit of happiness from reaching its goal".
TCHAIKOVSKY Fantasy-Overture, Hamlet
MUSSORGSKY (orch Shostakovich) Songs and Dance of Death
TCHAIKOVSKY Symphony No.4
Sergei Leiferkus, bass
BBC Philharmonic
Vassily Sinaisky, conductor
Followed by...
We look at Messiaen's monumental organ work La nativité du seigneur with performances of the work spread over the week.