Main content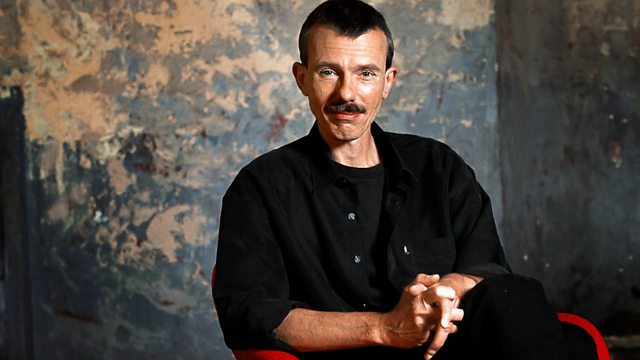 13/12/2010
Jonathan Swain presents Part 2 of Mendelssohn's St Paul Oratorio.
Jonathan Swain presents part 2 of Mendelssohn's St Paul Oratorio
01:01AM
Mendelssohn, Felix (1809-1847)
St Paul - Oritorio (Op. 36) Part 2
Ruth Ziesak (soprano), Christianne Stotijn (mezzo-soprano), Matthias Goerne (baritone), Paul Groves (tenor), Radio France Chorus, Matthias Brauer (director), Radio France Children's Chorus, Sofi Jeannin (director), Orchestre National De France, Kurt Masur (conductor)
01:57AM
Schumann, Robert (1810-1856)
Fantasiestücke (Op.12)
Kevin Kenner (piano)
02:22AM
Svendsen, Johan (1840-1911)
Octet for strings (Op.3) in A major
Atle Sponberg (violin), Joakim Svenheden (violin), Aida-Carmen Soanea (viola), Adrian Brendel (cello), Vertavo String Quartet
03:01AM
Engel, Jan (?-1788)
Symphony in G major
Polish Radio Symphony Orchestra, Andrzej Straszynski (conductor)
03:18AM
Britten, Benjamin (1913-1976)
Serenade for tenor, horn and string orchestra (Op.31)
Benjamin Butterfield (tenor), James Sommerville (horn), Manitoba Chamber Orchestra, Simon Streatfield (conductor)
03:43AM
Viotti, Giovanni Battista (1755-1824)
Serenade for 2 violins no.1 (Op.23) in A major
Angel Stankov, Yossif Radionov (violins)
03:52AM
MacDowell, Edward (1860-1908)
Suite for large orchestra in A minor (Op.42)
Eastman-Rochester Orchestra, Howard Hanson (conductor)
04:12AM
Cornazano, Antonio (b.Piacenza, c.1430; d.Ferrara, Dec 1484)/Anon
Figlie Guilielmin
Hesperion XX, Jordi Savall (director)
04:14AM
Morata, Ginés de (16th century)
Pués que no puedo olvidarte
Lambert Climent (tenor), Francesc Garrigosa (tenor), Daniele Carnovich (bass), Hespèrion XX, Jordi Savall (director)
04:17AM
Ortiz, Diego (b.Toledo, c.1510; d.?Naples, c.1570)/Torre, Francisco de la (fl.1483-1504)
Il Re di Spagna
Hesperion XX, Jordi Savall (director)
04:20AM
Albinoni, Tomaso (1671-1750)
Adagio in G minor (arr. For organ and trumpet)
Blagoj Angelovski (trumpet), Velin Iliev (organ)
04:27AM
Debussy, Claude (1862-1918)
Danse sacrée et danse profane for harp and strings
Eva Maros (harp), orchestra and conductor not credited (probably Hungarian Radio Orchestra)
04:38AM
Mozart, Wolfgang Amadeus (1756-1791)
Rondo concertante for violin and orchestra (K.269) in B flat major
Benjamin Schmid (violin), The Danish Radio Concert Orchestra, Adam Fischer (conductor)
04:45AM
Bach, Johann Sebastian (1685-1750)
Concerto for violin, harpsichord and orchestra in C minor (BWV.1060)
Andrew Manze (violin/director), Richard Egarr (harpsichord), Risör Festival Strings
05:01AM
Vivaldi, Antonio (1678-1741)
Concerto for strings and continuo in D minor, 'Il Piccolino' (RV.127)
I Cameristi Italiani
05:05AM
Bartók, Béla (1881-1945)
Petite suite for piano (Sz.105) arr. from "44 Duos"
Jan Michiels (piano)
05:13AM
Rosetti, Antonio (c.1750-1792)
Grande Symphonie in D
Capella Coloniensis, Hans-Martin Linde (director)
05:29AM
Bottesini, Giovanni (1821-1889)
Reverie
Gary Karr (double bass), Harmon Lewis (piano)
05:34AM
Schubert, Franz (1797-1828), orchestrated. Anton Webern (1883-1945)
6 Deutsche 9German dances) for piano (D.820)
Luxembourg Philharmonic Orchestra, Justin Brown (conductor)
05:43AM
Bach, Johann Sebastian (1685-1750), orch. Webern, Anton (1883-1945)
Fuga ricercata No.2 from Bach's 'Musikalischen Opfer' (BWV.1079)
Saarbrücken Radio Symphony Orchestra, Wolfgang Fortner (conductor)
05:54AM
Wirén, Dag (1905-1986)
Serenade for Strings (Op.11)
Swedish Radio Symphony Orchestra, Niklas Willén (conductor)
06:09AM
Bach, Johann Christoph (1642-1703)
Meine Freundin, du bist schön
Maria Zedelius (soprano), David Cordier (alto), Paul Elliott (tenor), Michael Schopper (bass), Rheinische Kantorei, Musica Antiqua Koln, Reinhard Goebel (director)
06:32AM
Schreker, Franz (1878-1934)
Fantastic Overture (Op.15)
BBC Philharmonic Orchestra, Vassily Sinaisky (conductor)
06:42AM
Kverno, Trond H.F. (b. 1945)
Corpus Christi Carol: Missa Fidei Mysterii
Norwegian Soloists' Choir, Grete Helgerød (conductor).