Main content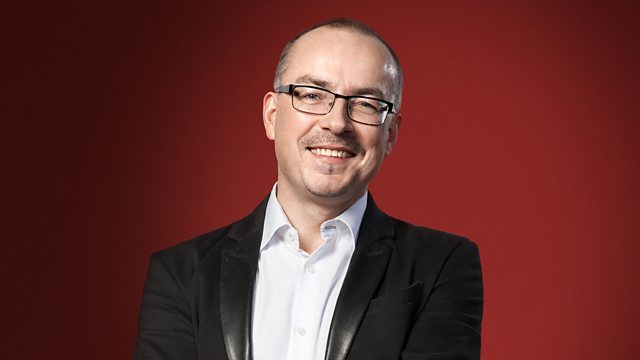 Building a Library: Beethoven: Piano Sonata in E flat, Op 7
With Andrew McGregor. Including Building a Library: Beethoven: Piano Sonata in E flat, Op 7; Conductor Vasily Petrenko; Disc of the Week - Martinu: Den dobrocinnosti.
Andrew McGregor introduces CD Review, Radio 3's weekly programme devoted to what's new in the world of recorded music
09.05am
BACH: Orchestral Suites Nos. 1-4
Concerto Koln
Berlin Classics 0300061BC (2 CDs)
BACH: Orchestral Suite No.2; Brandenburg Concertos Nos.2, 4, 5; Concerto for 2 Violins in D minor etc.
London Conchord Ensemble / Florian Uhlig (piano)
Champs Hill Records CHRCD014 (2 CDs)
HANDEL: Water Music; Rodrigo – overture
Les Musiciens du Louvre – Grenoble / Marc Minkowski (conductor)
Naïve V5234 (CD)
09.30am Building a Library
Iain Burnside assesses some of the currently available recordings of Beethoven's Piano Sonata No.4 in E flat major, Op.7, and makes a personal top recommendation.
10.15am New and Recent Releases
DEBUSSY: String Qartet; DUTILLEUX: "Ainsi la nuit"; RAVEL: String Quartet
Arcanto Quartet
Harmonia Mundi HMC 902067 (CD)
"Estilo Espanol"
TURINA: Circulo; CASSADO: Trio; GRANADOS: Intermezzo from "Goyescas"; ARBOS: Res Piezas Originales en Estilo Espanol
Devich Trio
Challenge Classics CC72322 (CD)
RAVEL: String Quartet; SHOSTAKOVICH: String Quartet No.5
Navarra String Quartet
Sonimage SON11002 (CD)
VASKS: String Quartets Nos. 1-3
Navarra Quartet
Challenge Classics CC72365 (CD)
11.10am Interview
Andrew talks with Russian conductor Vasily Petrenko, including extracts from the following recordings:
RACHMANINOV: Piano Concertos Nos. 2 and 3
Simon Trpceski (piano) / Royal Liverpool Philharmonic Orchestra / Vasily Petrenko (conductor)
Avie AV2192 (CD)
RACHMANINOV: Symphonic Dances; Isle of the Dead; The Rock
Royal Liverpool Philharmonic Orchestra / Vasily Petrenko (conductor)
Avie AV2188 (CD)
SHOSTAKOVICH: Symphony No.10
Royal Liverpool Philharmonic Orchestra / Vasily Petrenko (conductor)
Naxos 8572461 (CD)
SHOSTAKOVICH: Symphonies Nos.5 and 9
Royal Liverpool Philharmonic Orchestra / Vasily Petrenko (conductor)
Naxos 8572167 (CD)
11.45am Disc of the Week
MARTINU: Le Jour de Bonté
Tomáš Bijok (Lucas), Petr Matuszek (Nicolas), Irena Troupová (Blonde), Peter Poldauf (Le Maire), Michal Mačuha (Le Cabaretier) / Pilsen Philharmonic Orchestra / Prague Chamber Choir / Milan Kanak (conductor)
Arco Diva UP0121-2131 (CD)