Main content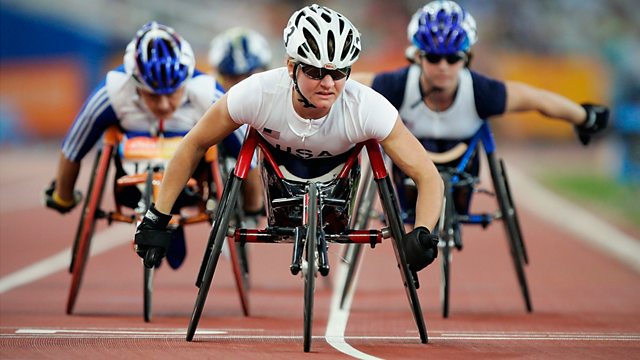 A Level Playing Field for the Paralympics
...Paralympics. To mark the 50th anniversary of the Paralympics, Peter White explores the controversies and inconsistencies underlying them, and looks ahead to the 2012 games.
The Beijing Paralympics in 2008 brought the full glories of disabled sport to a worldwide audience and set up a host of expectations for 2012 . But behind the scenes of triumph, longstanding controversies were raging which have dogged many Paralympic Games over the decades. In this programme, to mark the 50th anniversary of the Paralympics, Peter White explores the issues behind the Games and asks what changes are being made to improve conditions for athletes in time for London 2012.
One of these controversies centres on the classification of disabled athletes, a system which uses medical evidence, examination and in-competition appraisals to try to ensure parity of ability. However, over the years, the process, which divides the athletes into many, often confusing sub-groups has become fraught with problems and anomalies. In 2008, the British competitor Rebecca Chinn had a silver medal taken away after being judged to have been put in the wrong category.
Another issue which has dogged the Paralympics recently has been whether to include athletes with learning disabilities. Although they had previously taken part in many events, they were ejected from the Paralympics after the Sydney Games in 2000, when fit Spanish athletes pretended to have learning difficulties and won gold. London's bid contained plans to include them again, and in this programme, we follow the new testing methods which have been developed to bring these athletes back in 2012.
The programme also explores the deep-rooted tension within the Paralympics - are they the home of quasi-professionalism with big money tie-ins, or should they retain the school sports day tradition from which they emerged, of gentle encouragement and the odd race rerun when something goes wrong?
To mark the 50th anniversary of the Paralympics, Peter White explores the preparations for the next games and investigates past and potential inconsistencies underlying them. He hears the athletes' stories and draws on archive from the past to contextualise today's debates and look forward to 2012.
Producer: Emma Kingsley.
Last on
Broadcasts