Main content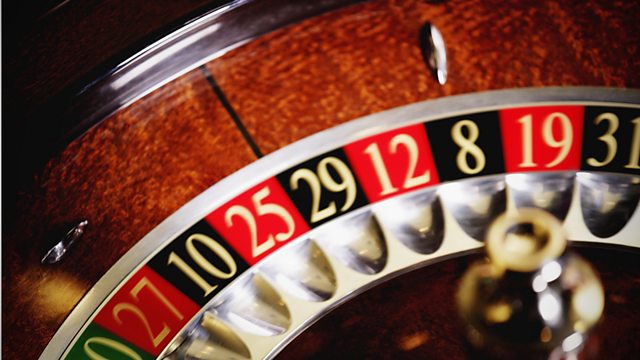 The Gambler
A new version of Dostoevsky's 'The Gambler' written by Poet Glyn Maxwell. This comic drama is an enthralling portrayal of the power of love and money. With Patricia Routledge.
Fyodor Dostoevsky in 1866, in serious debt, addicted to roulette and rejected by several women, spun these sad materials into 'The Gambler', a brilliant tragicomic novella written in a feverish few weeks to stave off ruin.
Set in Roulettenburg, a fictional spa town in the Alps, the novel tells how Alexei Ivanovich, servant to a bankrupt family, falls madly in love twice- first with the lovely unobtainable Polina, then with the forbidden thrill of the Casino. As Polina demands ever more slavish and reckless obedience from him, Alexei finds liberation in his enslavement, and their relationship starts to mutate into something altogether richer and stranger.
Meanwhile a cast of villains and victims- Polina's weak, infatuated uncle 'the General', the pretty young gold-digger he falls for, and a scheming French aristocrat with designs on Polina - wait to inherit millions from her dying Granny - until the old lady herself bursts in, foul-mouthed, furious, and up for a good time. Fortunes will rise and fall, love be won and lost, hopes and dreams go up in flames, before the roulette-wheel comes to a final stop and the little silver ball makes its choice.
Major contemporary poet Glyn Maxwell (The Nerve, The Sugar Mile, Hide Now) recreates the madness and mayhem of a world enthralled by chance, sex and money, a world without values or foundations, spinning out of control.
Cast:
Alexei Ivanovich ..... Sam Crane
General Zagorski ..... Nicholas le Prevost
Granny ..... Patricia Routledge
Polina Alexandrovna ..... Siobhan Hewlett
De Grieux ..... David Westhead
Astley ..... Robert Portal
Blanche de Cominges ..... Charlotte Randle
Written by Glyn Maxwell
Director: Guy Retallack
Producer: Frank Stirling
A Unique production for BBC Radio 4.