Main content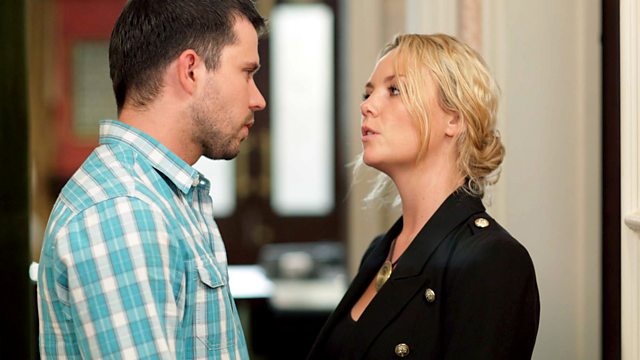 03/12/2010
Syed faces a dilemma as he wrestles with a secret that could destroy his parents' marriage. Jane and Masood panic when Zainab delights in goading a nihilistic Ian.
Syed can't bring himself to tell Zainab about Jane and Masood and instead thanks her for saving him in the Vic fire. Zainab invites Jane and Ian round for an excruciatingly awkward five course lunch. Zainab hopes there are no hard feelings over the Argee Bhajee. Ian's loaded comments make Masood and Jane squirm, but make Zainab think that Ian wants to buy her out of Masala Queen. Ian takes this as proof that the Masoods have overstretched themselves.
Janine's got a job interview on the other side of London. When she doesn't get the job, Ryan comforts her. Stacey's in high spirits at the prospect of being with Ryan, but becomes more subdued after talking to Dot and Charlie about Bradley. In the barrel store, Stacey tells Ryan she's changed her mind, she just wants them to have an affair. Kat walks in and finds Ryan seemingly alone. After Kat leaves, Stacey stands up, naked. Stacey and Ryan kiss.
There's a thief at Julie's hostel, so she leaves some of her belongings at Billy's. At the Vic, Julie accidentally sends away the wine delivery driver; Billy saves the day, borrowing wine from R&R then claiming it was Julie's idea. When Kat suggests there's something going on between Julie and Billy, Julie denies it but smiles. Jay finds a pile of photos of the same man amongst Julie's things. Billy confronts Julie, who eventually admits that the pictures are of their son.
Dot's found some old sheet music of Ethel's to take to choir. Learning that Grace Olubunmi is already a choir member, Dot nearly backs out. Fat Boy escorts Dot to the Community Centre, and is coerced into joining the choir himself. When Dot suggests there's room for improvement within the choir, Grace takes it as a personal slight.
Clips

Credits
| Role | Contributor |
| --- | --- |
| Billy Mitchell | Perry Fenwick |
| Julie Perkins | Cathy Murphy |
| Ryan Malloy | Neil McDermott |
| Stacey Branning | Lacey Turner |
| Masood Ahmed | Nitin Ganatra |
| Zainab Masood | Nina Wadia |
| Jane Beale | Laurie Brett |
| Ian Beale | Adam Woodyatt |
| Glenda Mitchell | Glynis Barber |
| Kat Moon | Jessie Wallace |
| Janine Malloy | Charlie Brooks |
| Syed Masood | Marc Elliott |
| Christian Clarke | John Partridge |
| Dot Branning | June Brown |
| Heather Trott | Cheryl Fergison |
| Arthur 'Fat Boy' Chubb | Ricky Norwood |
| Charlie Slater | Derek Martin |
| Jay Brown | Jamie Borthwick |
| Grace Olubunmi | Ellen Thomas |
| Mercy Olubunmi | Bunmi Mojekwu |
| Peter Beale | Thomas Law |
| Edward Bishop | Frank Barrie |
| Writer | Rob Gittins |
| Executive Producer | Bryan Kirkwood |