Main content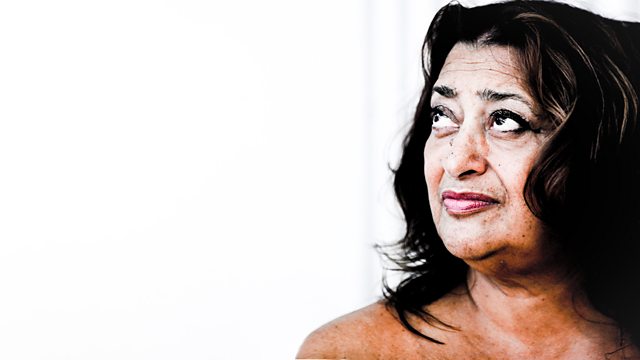 Zaha
Jonathan Glancey reviews the remarkable career of the late architect Dame Zaha Hadid, visiting recent projects of hers. Including interviews with Hadid and former colleagues.
Presented by Jonathan Glancey, this profile of the late Dame Zaha Hadid opens in Antwerp - at the futuristic Port House, the first of Zaha Hadid Architects' buildings to complete since her death six months ago. It is a wildly ambitious structure in which a well mannered rectangular brick office building has been topped with a vast cantilevered glass boat-shaped extension. It is the very epitome of the ZHA flair and ambition in architecture.
We also visit the new Maths Gallery at the Science Museum in London which opens in December this year - designed by ZHA - and organised around a suspended 1929 bi-plane. The mathematically calculated airflow from the plane serves to shape the spaces so that maths becomes not just an exhibit but part of the very fabric of the gallery.
It took a long time for Zaha to be acknowledged and build in her adopted homeland. But the Pritzker prizewinner added the British RIBA Stirling Prize and the coveted Royal Gold Medal to her honours and her buildings stirred huge demand across the world.
In the programme we hear from the opening of MAXXI, the Museum of 21st Century Art in Rome, the first unequivocally modern public building in the city for many years. We report from Wolfsburg in Germany where Zaha's new Phaeno science centre astonished architectural critics, and from Glasgow where the new Transport Museum is a vital part of a regenerative programme for the Clyde, and we take a trip to the acclaimed new Evelyn Grace Academy in South London.
We hear Zaha herself in the programme from an in-depth interview she gave us before the London 2012 Olympics. Other contributors include Deyan Sudjic, Director of the Design museum, Joris Pauwels and Jim Heverin, two of Zaha's inside team of trusted colleagues and Simon Jenkins who is deeply sceptical about the 'fantasy buildings' made by architects who imitate Zaha's style.
Revised repeat of a programme first broadcast in December 2010.