Main content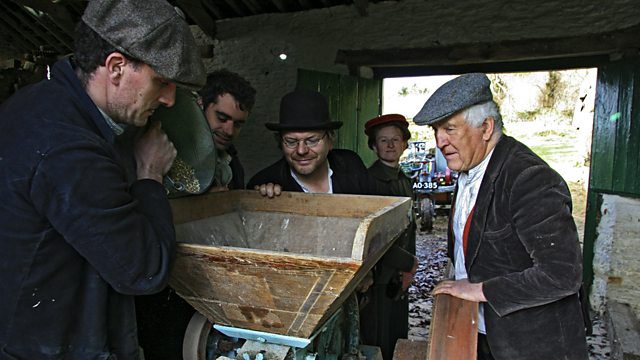 Archaeologists Alex and Peter and historian Ruth try Edwardian life for a year. The team get to grips with the revolutionary technologies of the age.
Archaeologists Alex Langlands and Peter Ginn and historian Ruth Goodman are in Morwellham Quay in Devon - once home to one of the busiest ports in Britain. They will be attempting to bring it back to life as it was in its Edwardian heyday.
It's November and to prosper as Edwardian farmers, Alex, Peter and Ruth need to get to grips with the technologies of the age and use Edwardian science to set up an exciting new venture on the farm.
Alex and Peter want to grow oats, essential as feed for their livestock, and potatoes, a reliable source of income. But first they must plough the land.
Most Edwardian farmers still relied heavily on horse power, but new technology was on the horizon. A travelling salesman makes a dramatic entrance bringing a piece of the state-of-the-art machinery from the Edwardian age - the world's first tractor, the Ivel.
Ruth prepares for the arrival of the farm's pigs by restoring the farm's pig sty privy - an ingenious construction combining a pig sty with a lavatory so that pig waste and human waste could be composted in one place. After introducing the pigs to their new home, Ruth grooms them.
Peter embarks on building a trout farm and populating it by using revolutionary fish-breeding techniques that were new to Devon's Edwardian farmers.
And Alex wants to maintain the farm's hedgerows - but first he'll need to learn how to forge a Devon billhook using water-powered technology.
After all their hard work, Ruth cheers the team up by making sloe gin and acquiring an Edwardian musical novelty - a gramophone.
Credits
| Role | Contributor |
| --- | --- |
| Producer | Chris Marshall |
| Director | Chris Marshall |
| Executive Producer | David Upshal |