Main content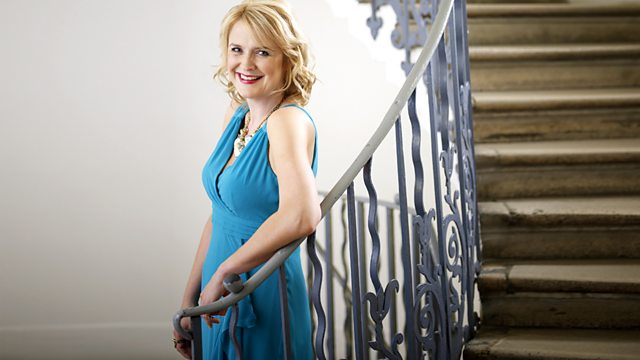 Friday - Sarah Walker
With Sarah Walker. Shostakovich: Festival Overture. Chopin: Polonaise in A flat (Heroique). Vivaldi: Concerto in D minor, RV540. Elgar: Polonia. Paderewski: Fantaisie Polonaise.
Collection with Sarah Walker: this week music with Polish connections, a selection of concert overtures and the violinist Nigel Kennedy.
Our Friday virtuoso is the pianist Martha Argerich playing Chopin's Polonaise in A flat, Op.53, Heroique. Our collection of Polish music concludes with Paderewski's Fantaisie Polonaise played by the pianist Janina Fialkowska, herself of Polish descent. Nigel Kennedy plays Elgar's Violin Concerto and there's also Shostakovich's Festival Overture played by the Royal Philharmonic Orchestra under Vladimir Ashkenazy.
10.00
Shostakovich
Festival Overture, op.96
Royal Philharmonic Orchestra
Vladimir Ashkenazy (conductor)
Decca 436 762-2
10.07
The Friday Virtuoso
Chopin
Polonaise in A flat, op.53, Heroique
Martha Argerich (piano)
EMI 5 56805 2
10.14
Vivaldi
Concerto in D minor for lute, viola d'amore and strings, RV540
The Academy of Ancient Music
Andrew Manze (director)
Harmonia Mundi HMU 907230
10.27
Elgar
Polonia, Op.76
Royal Philharmonic Orchestra
Adrian Boult (conductor)
10.40
Paderewski
Fantaisie Polonaise, Op.19
Janina Fialkowska (piano)
National Polish Radio Symphony Orchestra
Antoni Wit (conductor)
Naxos 8 554020
11.02
Elgar
Violin Concerto in B minor, op.61
Nigel Kennedy (violin)
London Philharmonic Orchestra
Vernon Handley (conductor)
EMI CDC 7 47210 2.