Main content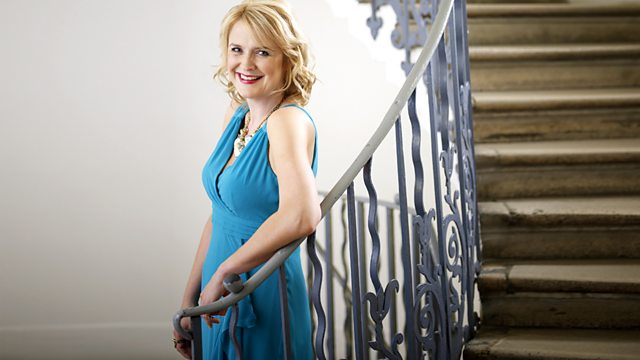 Tuesday - Sarah Walker
With Sarah Walker. Mendelssohn: Fingal's Cave. Lutoslawski: Paganini Variations. Beethoven: 12 Variations on a Russian Dance. Wranitzky: Symphony in D. Delibes: Mazurka (Coppelia).
Classical Collection with Sarah Walker: this week music with Polish connections, concert overtures and recordings by the violinist Nigel Kennedy.
Today our highlights include Mendelssohn's Fingal's Cave overture, Wranitzky's Symphony in D major, Op.36, a group of three Mazurkas from Debussy, Villa-Lobos and Delibes and a recording of Ravel's Sonata for Violin and Cello from our artist of the week Nigel Kennedy and the cellist Lynn Harrell.
10.00
Mendelssohn
Fingal's Cave, overture for orchestra, op.26
London Symphony Orchestra
Antal Dorati (conductor)
Mercury 434 363-2
10.11
Lutoslawski
Paganini Variations for piano and orchestra
Peter Jablonski (piano)
Royal Philharmonic Orchestra
Vladimir Ashkenazy
Decca 436 239-2
10.20
Beethoven
12 Variations on a Russian Dance from Das Waldmadchen for piano, WoO71
Olli Mustonen (piano)
Decca 436 834-2
10.32
Wranitzky
Symphony in D, op.36
London Mozart Players
Matthias Bamert (conductor)
Chandos CHAN 9916
Today's Group of 3 features Mazurkas, but not from Poland.
10.54
Debussy
Mazurka
Jean-Yves Thibaudet (piano)
Decca 460 247-2
10.57
Villa-Lobos
Mazurka-Choro for solo guitar (from Suite populaire Bresilienne)
Benjamin Bunch (guitar)
Etcetera KTC 1241
11.01
Delibes
Mazurka from Act 1 of Coppelia
Orchestre de l'Opera National de Paris
Jean-Baptiste Mari (conductor)
EMI 67723
11.06
Dvorak
Slavonic Dance op.72 no.1 in B major
Royal Philharmonic Orchestra
Artur Rodzinski (conductor)
DG 471 202-2
11.11
Ravel
Sonata for violin and cello
Nigel Kennedy (violin)
Lynn Harrell (cello)
EMI 5 56963 2
11.33
Panufnik
Sinfonia Rustica
Polish Radio Symphony Orchestra
Lukasz Borowicz (conductor)
CPO 777 496-2.