Main content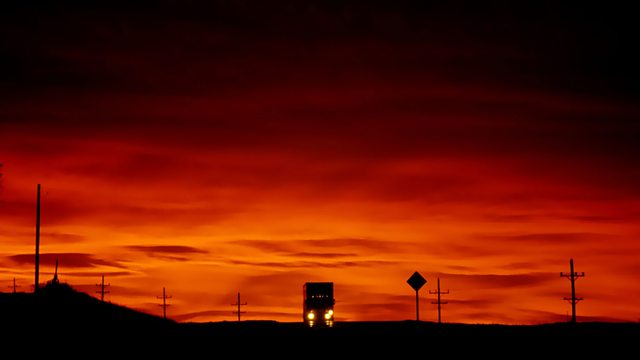 29/11/2010
Susan Sharpe's selection includes highlights from Romania's 2009 Young Musician competition.
Susan Sharpe's selection includes highlights from Romania's 2009 Young Musician competition.
1:01 AM
Enescu, George (1881-1955)
Violin Sonata No. 3 in A (Op. 25) 'dans le caractère populaire roumain'
Sebastian Tegzesiu (violin), Viorica Boerescu (piano)
1:29 AM
Mozart, Wolfgang Amadeus (1756-1791)
String Quartet No. 20 in D (K.499) 'Hoffmeister'
ANIMA Quartet
1:54 AM
Muthel, Johann Gottfried (1728-1788)
Concerto in D minor for harpsichord, 2 bassoons, strings and continuo
Rhoda Patrick and David Mings (bassoons), Gregor Hollman (harpsichord), Musica Alta Ripa
2:18 AM
Prokofiev, Sergey (1891-1953)
Symphony No.5 (Op.100
Bulgarian National Radio Symphony Orchestra, Milen Nachev (conductor)
3:01 AM
Boccherini, Luigi (1743-1805)
Quintet for guitar and strings in D major (G.448)
Zagreb Guitar Quartet, Varazdin Chamber Orchestra (no conductor)
3:20 AM
Bliss, Sir Arthur (1891-1975)
Concerto for cello and orchestra, T.120
Shauna Rolston (cello), Edmonton Symphony Orchestra, Uri Mayer (conductor)
3:50 AM
Bruch, Max (1838-1920)
Excerpts from Eight Pieces for clarinet, viola and piano (Op.83); No.7 - Allegro Vivace ma non troppo in B major; No.8 - Moderato in E flat minor
Paul Dean (clarinet), Brett Dean (viola), Stephen Emmerson (piano)
4:12 AM
Stradella, Alessandro (1644-1682)
Quando mai vi Stancherete
Emma Kirkby (soprano), Alan Wilson (harpsichord)
4:20 AM
Telemann, Georg Philipp (1681-1767)
Septet in B flat for 3 oboes, 3 violins & basso continuo (TWV.44:43)
Il Gardellino
4:30 AM
Dohnányi, Ernõ (1877-1960)
Symphonic Minutes (Op.36)
West Australian Symphony Orchestra, Jorge Mester (conductor)
4:43 AM
Liszt, Franz (1811-1886)
(Eduard Lassen) Löse Himmel, meine seele (S.494) transc. for piano
Sylviane Deferne (piano)
4:50 AM
Doppler, Franz (1821-1883)
Andante and Rondo for two flutes and piano (Op.25)
Karolina Santl-Zupan and Matej Zupan (flutes), Dijana Tanovic (piano)
5:01 AM
Matthews, Artie (1888-1959)
Pastime Rags (1913-20): Slow Drags No.5
Donna Coleman (piano)
5:05 AM
Shostakovich, Dmitry (1906-1975)
Second Waltz from the Second Jazz suite
Eolina Quartet
5:10 AM
Rachmaninov, Sergey (1873-1943)
Romance and Waltz
The Dutch Pianists' Quartet
5:16 AM
Albinoni, Tomasi (1671-1750)
Oboe Concerto in D minor (Op.9 No.2)
Carin van Heerden (oboe), L'Orfeo Barockorchester, Michi Gaigg (director)
5:28 AM
Verdi, Giuseppe (1813-1901)
Overture to 'La Forza del destino'
Orchestre du Conservatoire de Musique du Quebec, Raffi Armenian (conductor)
5:35 AM
Suchon, Eugen (1908-1993)
Sinfonietta
Slovak Radio Symphony Orchestra in Bratislava, Mário Kosík (conductor)
5:49 AM
Kraus, Joseph Martin (1756-1792)
String Quartet No.2 in B flat major
Lysell String Quartet
6:04 AM
Bach, Carl Philipp Emmanuel (1714-1788)
Sinfonia No.2 in B flat major
Camerata Bern
6:15 AM
Musorgsky, Modest (1839-1881) compl and arr. Shostakovich, Dmitry (1906-1975)
Khovanschina: Prelude; Dance of the Persian Slaves
Sofia Symphony Orchestra, conductor Ivan Marinov
6:29 AM
Kilar, Wojciech (b. 1932)
Choral Prelude (1988)
Polish Radio Symphony Orchestra, Wojciech Rajski (conductor)
6:47 AM
Bruhns, Nicolaus (1665-1697)
Jauchzet dem Herren alle Welt
Guy de Mey (tenor), Ricercar Consort.