Main content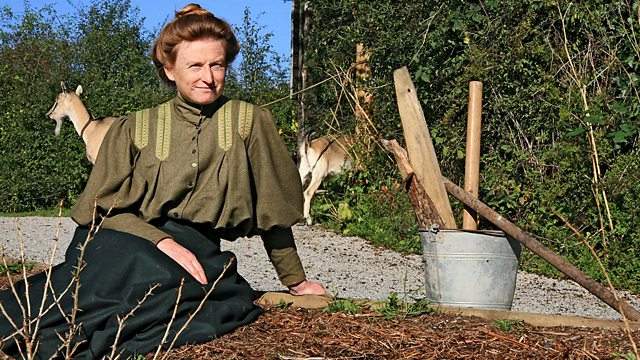 Archaeologists Alex and Peter and historian Ruth try Edwardian life for a year. The team branch out into market gardening, all-year-round egg production and beef cattle.
Archaeologists Alex Langlands and Peter Ginn and historian Ruth arrive at Morwellham Quay in Devon - once home to one of the busiest ports in Britain. For the next twelve months they will be attempting to bring it back to life as it was in its Edwardian heyday.
In October, the Edwardian farmers branch out into new ventures like market gardening, all-year-round egg production and beef cattle. After acquiring a beef herd, the team bring in a bull. They also begin training the shire horses for a year of work in the fields. And they take on a pair of goats who prove to be more than a handful at milking time.
Morwellham Quay's market gardens were once one of the nation's largest producers of strawberries, until abandoned half a century ago. Now the team attempt to bring them back to life. Cider was a vital part of the Edwardian rural economy, so Alex and Peter attempt to follow in this tradition by making it on an industrial scale - using an Edwardian cider press and a ton of apples.
Ruth preserves supplies for the winter: she pickles apples, salts a ham and smokes bacon. Peter visits a cooper and learns how to make a barrel, and Alex launches a chicken enterprise. Finally they see in the winter with Halloween - Edwardian style.
Credits
| Role | Contributor |
| --- | --- |
| Presenter | Alex Langlands |
| Presenter | Peter Ginn |
| Presenter | Ruth Goodman |
| Producer | Stuart Elliott |
| Director | Stuart Elliott |
| Executive Producer | David Upshal |