Main content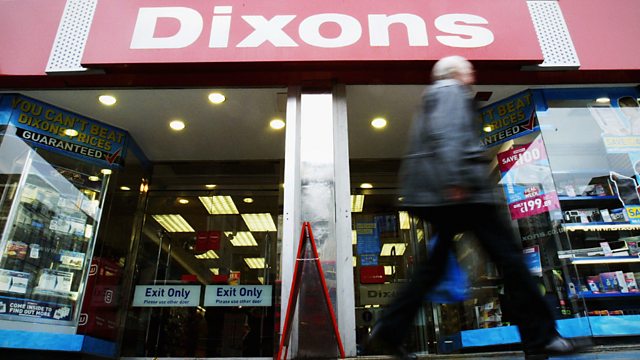 25/11/2010
Dixons overhaul of customer service; flexible working at Tesco; the Freedom Food logo, and supporting carers who work.
As the European electronics retailer Dixons announces its results, we ask whether an overhaul of its customer service will help it upstage its competitors.
Tesco has signed up to a scheme which allows people to work for as little as two hours a week. We'll be discussing who flexible working works for.
Any idea what the 'ethical' label on your food means? We explain the Freedom Food logo.
And as part of our continuing Care in the UK season, we look at government plans to help carers who also work, stay in work.
Chapters
Rail Investment

Two thousand new carriages, longer station platforms and an improved Thameslink service - but will passengers be prepared to pay more?

Duration: 07:31

New Carers Strategy for England 1

Extra money for GP's to spot Carers, and support to help them stay in work. Guests Paul Burstow, Care Services Minister.

Duration: 10:00

Social Housing

Will the government's reforms make more affordable housing available?

Duration: 11:44

Dixons Retail

Will a 'major overhaul' of customer serive at Dixons Retails, the parent company of high street chains Currys and PC World, give the company a competative edge?

Duration: 03:45

Flexible Working

'Slivers of Time' an initiative that allows people to offer to work for short periods of time, was adopted by Tesco last week but are schemes like this best placed to help people get back into work?

Duration: 07:04

Neuro-linguistic Programming

What evidence is there to support claims that NLP can help relieve conditions including stress and anxiety?

Duration: 04:24

New Carers Strategy for England 2

Extra money for GP's to spot Carers, and support to help them stay in work

Duration: 06:05