Main content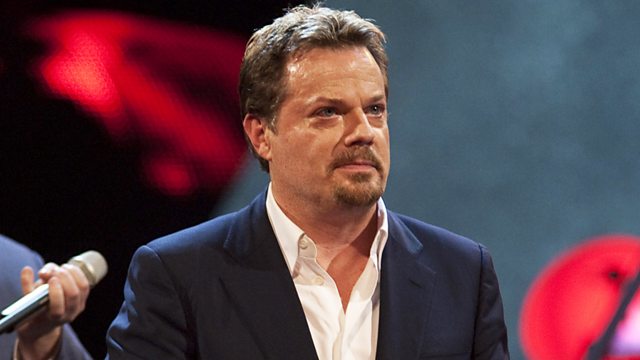 Eddie Izzard and The Girl Who Kicked The Hornet's Nest
Mark Lawson interviews comedian Eddie Izzard, Jeff Park reviews The Girl Who Kicked The Hornet's' Nest, artist Philippe Parreno's solo show and James Last on six decades on stage.
With Mark Lawson.
Eddie Izzard's latest project is Believe, a DVD charting the comedian's return to the stage after he was accused of fraud by the BBC's Watchdog programme for repeating old material. In a frank interview Eddie Izzard discusses the inspiration for his comedy, his serious acting roles on stage and film, and the continuing importance of his mother, who died when he was young.
The Girl Who Kicked The Hornet's Nest is the third and final film adaptation of the best-selling trilogy written by the late Swedish author Stieg Larsson. Originally only the first film was intended for theatrical release, with the subsequent parts designed for TV only, but that changed as a result of the enormous success of the first film. The second film in the series The Girl Who Played With Fire received a less good response. The director of that film, Daniel Alfredson, has also directed the final one - will he manage to deliver an appropriately rousing finale? Jeff Park reviews.
As German composer and big band leader James "Hansi" Last returns for a 24 date European tour next year. Mark talks to the 81 year old about what - after more than six decades on stage and thousands of concerts - still keeps him going.
The artist Philippe Parreno teamed up with Douglas Gordon to make the 2006 film Zidane: A 21st Century Portrait, and this week sees the opening of his new solo show at the Serpentine Gallery in London. The exhibition consists of a series of linked films showing in different galleries, with live sounds from the Kensington Gardens and the surrounding streets being incorporated into the works. Lynda Nead reviews.
Producer Claire Bartleet.
Chapters
Eddie Izzard

Eddie Izzard

Mark Lawson talks to comedian Eddie Izzard.

Duration: 11:09

The Girl Who Kicked The Hornet's Nest

The Girl Who Kicked The Hornet's Nest

A review of the film The Girl Who Kicked The Hornet's Nest.

Duration: 04:38

Philippe Pareeno at The Serpentine

Philippe Pareeno at The Serpentine

Philippe Pareeno at The Serpentine reviewed.

Duration: 05:13

James Last

James Last

Mark Lawson talks to musician James Last.

Duration: 06:45