Main content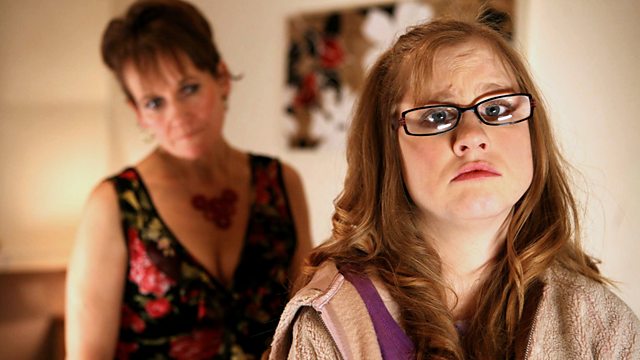 Drama. Darleen Fyles, a young woman with learning difficulties, strikes up an unlikely friendship with Diane, a resident at an elderly care home.
Darleen Fyles is a young woman with learning difficulties; she can be a real handful, and has a habit of making false alarm calls to the emergency services. Darleen lives in sheltered housing but is desperate to return home to live with her mum, Treena. Darleen thinks that if she's good, she'll be able to move back in, but Treena wants a new life with boyfriend Bob and his daughter Stacey. Darleen's friend Jamie, who also has learning difficulties, works as a cleaner in an elderly care home. Darleen goes to see him, and is found trespassing by resident Diane. Despite herself, Diane ends up sheltering Darleen in her room, and an unlikely friendship begins.
Darleen asks personal questions that no-one has ever thought to ask Diane before. Why doesn't she have pictures of her daughter up? Why hasn't she ever met her granddaughter? When Darleen is burgled, she wants to phone the police or her mum, but knows they won't believe her, so she phones Diane. By the time Diane gets Darleen's message, it is the next morning and Darleen is distraught. Diane, determined she can sort this, takes Darleen round to see Treena. There is an almighty row - Treena is angry that Diane is trying to tell her how to look after Darleen - she doesn't know the half of it. Darleen is cross too, and wants Diane to stop attacking her mum. Besides, says Darleen, Diane doesn't know anything about family; she hasn't even met own her granddaughter. Shaken, Diane leaves under a cloud.
Darleen goes up to her room - but it's not her room any more, it's full of a little girl's things. Treena tells Darleen about Bob and Stacey, and they row about truth and lies. But Darleen remains calm, even when Bob and Stacey appear at the door.
More episodes
Next
You are at the last episode
Credits
| Role | Contributor |
| --- | --- |
| Darleen | Donna Lavin |
| Treena | Lorraine Ashbourne |
| Diane | Anne Reid |
| James | Edmund Davies |
| Jen | Danielle Henry |
| Bob | Stephen Chapman |
| Lou | Jodie Kate Hamblet |
| Rachel | Alice Grice |
| Tony | Craig Cheetham |
| Stacy | Ellie Leach |
| Producer | Colin McKeown |
| Executive Producer | Colin McKeown |
| Director | Pauline Harris |
| Writer | Esther Wilson |