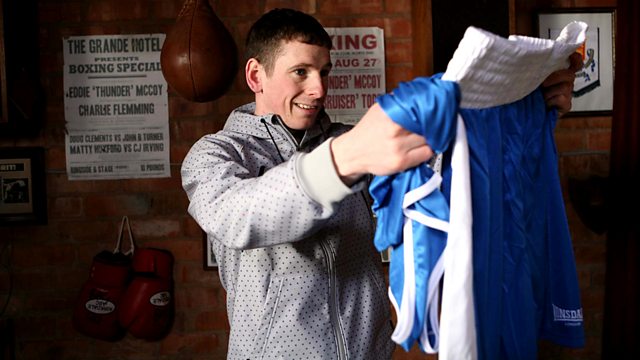 Teenager Jack is egged on by his mates to break into pensioner Eddie's house. The lights go on and Jack's trapped - and his mates have gone. Jack just wants to escape, but Eddie won't let him - and it turns out Eddie's an ex-boxer. Jack takes a swing at him - and suddenly everything goes black. As Jack comes round, Eddie asks him where he lives, telling him he needs to talk to his parents - or the police...
They arrive at Jack's house, and Eddie sees that it is run-down and unloved, with Jack's mother not far behind. Eventually, Eddie starts to train Jack and takes him to his local gym. The owner, Billy, tells Eddie to be careful - he knows Jack's type - but Eddie's firm: "He's with me".
All seems to be going well, but the gang are an ever-present threat in the background - they taunt them about Eddie's motives. Eddie shows Jack family mementoes, photos of his late wife, her wedding and engagement rings tied together by a ribbon. But when his late wife's rings eventually go missing, Eddie is devastated. Jack turns up at the gym with new gloves, and Eddie is furious. Jack protests, but Eddie doesn't buy it. Eddie's son Shane never approved of Jack, but doesn't crow about being proved right; he realises Jack meant a lot to Eddie.
When Shane and his daughter Emily arrive for a visit, they're bursting with news - Emily's getting married and - surprise! - she's wearing her grandmother's ring, just like Eddie wanted. They had it cleaned and resized as a surprise - isn't he thrilled? But Eddie is devastated, as he realises the mistake he's made. Eddie rushes round to Jack's to try and make amends, but he's out - he's back with the gang. Can Eddie save Jack from a life of crime?
Last on
Credits
| Role | Contributor |
| --- | --- |
| Eddie | Roy Marsden |
| Jack | Gerard Kearns |
| Shane | Kieran O'Brien |
| Natalie | Jo Hartley |
| Rickey | Tachia Newall |
| Billy | Steve Bell |
| Executive Producer | Colin McKeown |
| Producer | Colin McKeown |
| Director | Illy Hill |
| Writer | Arthur Ellison |
| Emily | Jess Schofield |