Main content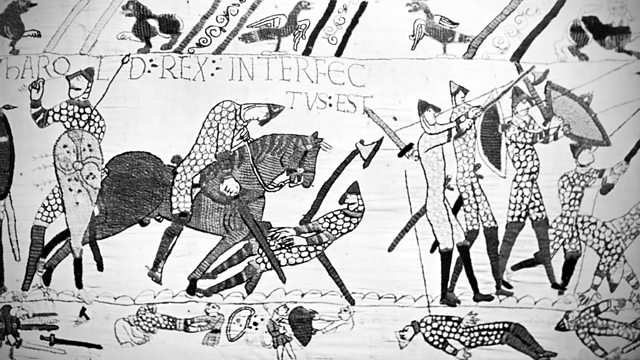 Michael Portillo looks again at Harold, the last of the Saxon Kings, his limited claims to the throne and the fragility of the nation state he strove to defend.
The image of King Harold II, the last of the Saxon Kings, the brave but gallant loser of the battle of Hastings in 1066 is a powerful one. It's a birth and death of a nation moment, the last time these islands were successfully invaded. But Michael Portillo looks again at that image of Harold. Was he really a noble figure, bravely trying to stave off defeat at the hands of the powerful Norman army while only days before he'd fought off another band of invaders, his brother Tostig amongst them, in the North? In fact both Harold and the Kingdom he ruled for less than a year were neither stable or heroic. Our last Saxon monarch took the crown by virtue of the power of his family. The Godwins had been at once a threat and an ally to Edward the Confessor throughout his reign.
But as Michael probes further he finds that Edward's reputation as the pious, good hearted ruler is also open to debate. Indeed we've not only forgotten that the kingdom was fragile, riven with factional Earldoms and the dangers that come with an uncertain royal lineage but we scarcely hear mention of the one figure, Edgar the Aetheling, who did have a genuine claim to the throne in 1066.
It appears that in the need for a clear image of 1066 and all that, an image worked on not only by the Normans in the 12th century but by the Victorians in the 19th, that we've gone quite a long way down the road of forgetting to remember the 'all that' that makes this such a fascinating moment in our Island history.
Producer: Tom Alban.
Last on

More episodes
Previous
You are at the first episode
Broadcast