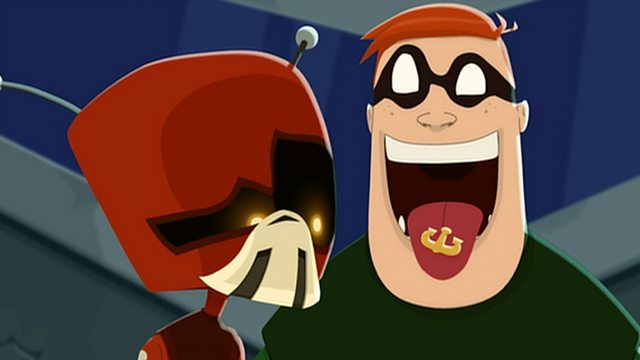 Tha an t-àm ann taic a chuir ri eucoir - Lìog Oillteil nan Sàr Eucoir (L.O.S.E)!
Tha Bholtar 's an sgioba airson a dhearabhadh gun gabh na Brisgeanan Brisg aig Caiptean Cnacail an ceannsachadh. Tha iad a' smaointinn gum faigh iad buaidh air na Brisgeanan le bhith gan cuir am bogadh ach tha am plana aca a' dol ceàrr 's mar thoradh tha am baile gu lèir air a chuir fodha. Chaidh aca air an cnàc a thoirt às a' bhrisgean ach an tig aca air an gearran a thoirt gun a' Chaiptean 's pèileag an airm às an dèidh?
Tha an Trustar Ruadh air a bhith cruinneachadh ribeagan fuilt 's e a' dèanamh deiseil airson an latha a thig an t-sìthiche fuilt le cuid ulaidh. Tha an Dotair a' diùltadh creidsinn ann an leithid de chreutair 's tha e cur às de stòras an Trustar. Ge-tà, tha an t-sìthiche a' leigeil fhaicinn dhaibh gu bheil i da-rìribh air an t-slighe 's feumaidh iad an stòras a chruinneachadh às ùr mus nochd i.
It's time to root for the bad guys with The League of Super Evil (L.O.S.E).
In an effort to foil Caiptean Cnacail's always-crunchy guarantee, the League accidentally flood the entire city. They succeed in soggy-ing the chip, but cashing in on the guarantee becomes a serious challenge as the Army Dolphin is now patrolling the streets.
Traustar Ruadh has been collecting hair for years, hoping to finally have the closetful necessary to summon the Hair Fairy, who will exchange it for treasure. Cròg is not a believer, and in discovering the hair decides to destroy it. But as he does so, the tell-tale signs of the Hair Fairy's imminent arrival appear, starting a race against the clock to gather enough hair to cash in.
Last on