Main content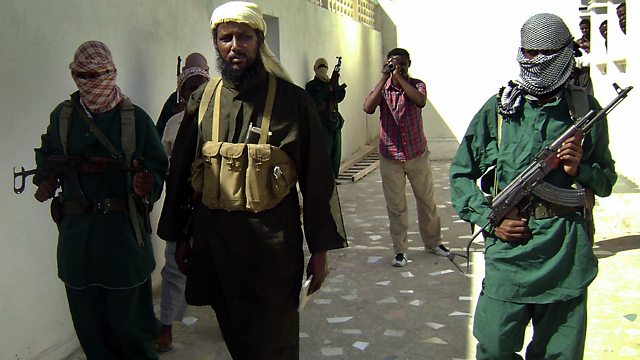 The Somali Connection
How are young, British-based Somalis lured into fighting for the al-Qaeda-linked Jihadist group, al-Shabaab? Jenny Cuffe investigates.
Jenny Cuffe investigates how British-based Somalis are being lured into fighting for the al-Qaeda-linked Islamists of al-Shabaab.
There have been consistent rumours that dozens, perhaps scores of British-based Somali men have travelled to Somalia to join the militant Islamist group which was banned by the British Government earlier this year.
In September the rumours were given new urgency when the Director of MI5, Jonathan Evans, warned it was only a matter of time before the UK suffered an act of terrorism committed by al-Shabaab-trained Britons.
File on 4 explores the techniques used by Al-Shabaab to persuade young members of the 250,000-strong British Somali community to sign up for Jihad in Somalia. Members of the close-knit and reticent British Somali community tell Jenny Cuffe of their fears that youngsters are being seduced through the internet and by shadowy recruiting sergeants for the Horn of Africa's most feared military force.
And the programme travels to the state of Minnesota to see how a vigorous FBI investigation and cooperation from the Somali community have laid-bare a pipeline which first lured, then transported young American Somalis to the training camps and battlefields of Somalia.
Producer: Andy Denwood.