Main content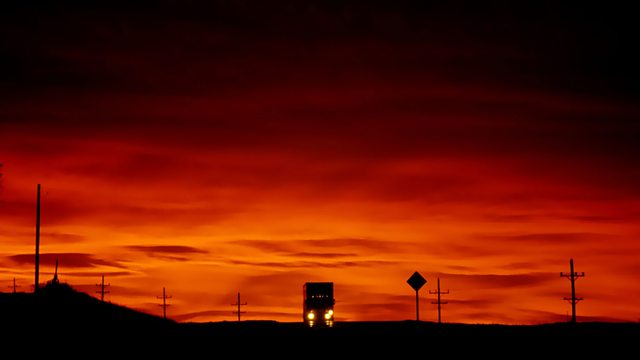 21/11/2010
John Shea presents Daniel Barenboim and West-Eastern Divan Orchestra performing Haydn, Schoenberg, Brahms and Wagner at the 2008 Proms.
John Shea presents Daniel Barenboim and West-Eastern Divan Orchestra from 2008 BBC Proms
1:00 AM
Haydn, Joseph (1732-1809)
Sinfonia Concertante in B flat (Hob. I/105)
Ramón Ortega Quero (oboe), Mor Biron (bassoon), Guy Braunstein (violin), Hassan Moataz El Molla (cello)
1:22 AM
Schoenberg, Arnold (1874-1951)
Variations for Orchestra (Op.31)
1:44 AM
Brahms, Johannes (1833-1897)
Symphony No.4 in E minor (Op.98)
2:24 AM
Wagner, Richard (1813-1883)
Prelude to Act I of Die Meistersinger
2.35 AM
Handel, Georg Frideric (1685-1759)
Agrippina condotta a morire: Dunque sarà pur vero (HWV.110) - Cantata for soprano, 2 violins and continuo
Johanna Koslowsky (soprano) & Musica Alta Ripa
3:01 AM
Strauss, Richard (1864-1949)
Don Juan (Op.20) (symphonic poem)
Orchestre du Conservatoire de Musique du Québec, Raffi Armenian (conductor)
3:18 AM
Rautavaara, Einojuhani (b. 1928)
Cantus Arcticus - 'a concerto for birds and orchestra' (Op.61) (1972)
Finnish Radio Symphony Orchestra, Jukka-Pekka Saraste (conductor)
3:36 AM
Schumann, Robert (1810-1856)
Quintet for piano and strings (Op.44) in E flat major
Henschel Quartet & Jens Elvekjaer (piano)
4:07 AM
Bach, Johann Sebastian (1685-1750)
Overture from Suite no.1 in C major (BWV.1066)
Stavanger Symphony Orchestra, Philippe Herreweghe (conductor)
4:17 AM
Ravel, Maurice (1875-1937)
Le Tombeau de Couperin - suite for orchestra
Norwegian Radio Orchestra, Antoni Ros-Marbà (conductor)
4:36 AM
Couperin, François (1668-1733)
Bruit de Guerre
Hungarian Brass Ensemble
4:40 AM
Mozart, Wolfgang Amadeus (1756-1791)
Sonata in B flat major (K.281)
Ingo Dannhorn (piano)
4:53 AM
Chabrier, Emmanuel (1841-1894)
España - rhapsody for orchestra
Sydney Symphony Orchestra, Stuart Challender (conductor)
5:01 AM
Geminiani, Francesco (1687-1762)
Concerto grosso (Op.3'6) in E minor
Camerata Bern, Thomas Furi (conductor)
5:10 AM
Chopin, Frédéric (1810-1849)
Waltz for piano (Op.70'3) in D flat major; Waltz No.2 in C sharp minor (3 Waltzes for piano (Op.64)); Waltz for piano (Op.70'1) in G flat major; Waltz for piano (Op.42) in A flat major
Leif Ove Andsnes (piano)
5:23 AM
Goldmark, Károly (1830-1915)
Scherzo for orchestra in E minor (Op.19)
Hungarian Radio Orchestra, Adam Medveczky (conductor)
5:29 AM
Glazunov, Alexander Konstantinovich (1865-1936)
Rêverie - for horn and piano in D flat major (Op.24)
Mindaugas Gecevicius (horn), Ala Bendoraitiene (piano)
5:33 AM
Kapp, Artur (1878-1952)
Cantata 'Päikesele' ('To the Sun')
Hendrik Krumm (tenor), Aime Tampere (organ), Eesti Raadio Segakoor (Estonian Radio Mixed Choir), Eesti Poistekoor (Estonian Boys' Choir), ERSO (Estonian State SO), Neeme Järvi (conductor)
5:43 AM
Haydn, Joseph [1732-1809]
Quartet for strings (Op.55'1) in A major
Meta4 (Quartet)
6:01 AM
Weber, Carl Maria von (1786-1826)
Overture - from 'Der Freischütz'
Netherlands Radio Philharmonic, Kenneth Montgomery (conductor)
6:11 AM
Alkan, Charles-Valentin (1813-1888)
Grand Duo Concertant for violin and piano in F sharp minor (Op.21) (c.1840)
Semmy Stahlhammer (violin), Johan Ullén (piano)
6:33 AM
Kunzen, Friedrich Ludwig Aemilius (1761-1817)
Symphony in G minor
Danish Radio Concert Orchestra, Peter Marschik (conductor)
6:53 AM
Telemann, Georg Philipp (1681-1767)
Sonata in F major from "Der Getreue Music-Meister"
Michael Schneider (recorder), Rainer Zipperling (cello), Harald Hoeren (positive organ).