Main content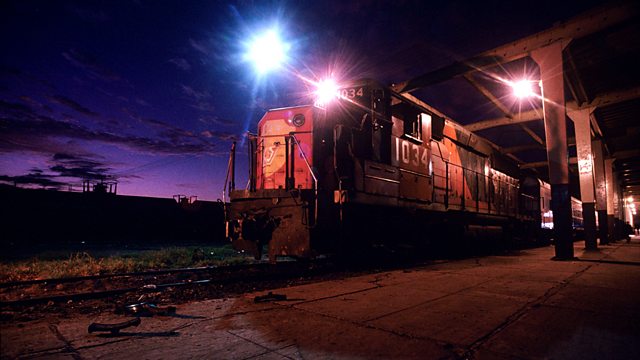 El Tren Fantasma
An atmospheric acoustic journey across the heart of Mexico from Pacific to Atlantic coast uses archive recordings to recreate a passenger service which no longer exists.
Ride the Ghost Train from Los Mochis to Veracruz, and travel across country, coast to coast, from the Pacific to Atlantic, on an acoustic journey through the heart of Mexico on board one of the most exciting, beautiful and dynamic engineering projects the country has ever known, but which has now passed into history.
It's more than a decade since the Mexican State Railway System operated its last continuous passenger service across the country. Sound recordist Chris Watson spent a month on board the train with some of the last passengers to travel this route. In this sound portrait, based on his original recordings, we recreate the journey of the 'ghost train'; evoking memories of a recent past, capturing the atmosphere, rhythms and sounds of human life and wildlife along the tracks of one of Mexico's greatest engineering projects.
Our journey begins on the west coast at Los Mochis. From here the track rises to an altitude of around 2,500 metres (over 8,000 ft) travelling through truly spectacular scenery as it sweeps through the Copper Canyon. The Tarahumara people, descendants of the Aztecs, still live a simple life in these canyons, as they have done for thousands of years. From here, we descend into Chihuahua City, and pause in the goods yard of the station, eavesdropping on an industrial symphony of metallic sounds. Further south, near the city of Durango, we swap railway coach for stage coach and travel to La Joya, the ranch once owned by the actor, John Wayne. Then it's back on the train, and onwards to the silver mines of Zacatecas. The dangers of working here are legendary. The ghost train travels on .. a gentle breeze sighs through the pine forest along the track side, and then, further south, the sounds of the Mariachi bands greet the train as it travels through Mexico city. In the vast landscape of shanty towns, the tracks are used as commuter routes by the locals. Cattle are even driven along them. But such practices can be fatal; in these suburbs, the trains don't stop. Then there's a diversion to El Tajin; here the descendants of the Mayans spin from tall poles and play games where the winner faces a sacrificial death. The end of the journey approaches; the ghost train thunders on towards the east coast, the Gulf of Mexico and our destination, Veracruz, where ship hooters in the harbour compete with the deafening screech of the train horn.
The recordings used in this programme were originally made by Chris Watson whilst in Mexico with a film crew for the BBC Television programme, Great Railways Journeys: Mexico. Sadly, since these recordings were made, the artist Phil Kelly has died (August 2010).
Narrator Chris Watson
Producer Sarah Blunt.
Last on