Main content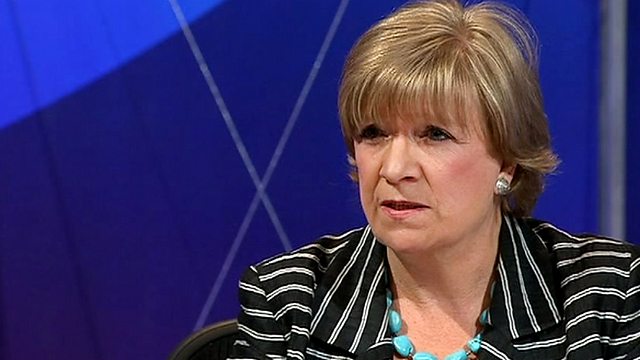 21/10/2010
David Dimbleby is joined in Middlesbrough by Philip Hammond MP, John Denham MP, Caroline Lucas MP, General Sir Richard Dannatt, George Pascoe-Watson and Polly Toynbee.
Topical debate with a panel of prominent public figures and an invited audience, chaired by David Dimbleby in Middlesbrough.
On the day after the Spending Review, David Dimbleby chairs Question Time from Middlesbrough. On the panel: Philip Hammond, Transport Secretary; John Denham, Shadow Business Secretary; Caroline Lucas, Leader of the Green Party; General Sir Richard Dannatt, former head of the British Army; the former political editor of The Sun, George Pascoe-Watson; and the Guardian's Polly Toynbee.
Chapters
Timings (where shown) are from the start of the programme in hours and minutes
Introduction

David Dimbleby introduces the panel in Middlesbrough.

Duration: 00:57

Fairness

Can the government really talk about "fairness" when it plans cuts which will devastate the unemployed, the sick and the poor?

Duration: 21:00

North East

Will George Osborne's cuts bring us back from the brink or will they push areas like Middlesbrough over the precipice?

Duration: 16:09

Defence

Britannia used to rule the waves. Why are we now satisfied to be dependent on our NATO allies to defend ourselves?

Duration: 11:40

Banks

How can the government only levy £2bn from the banks, a figure that barely covers the £2bn taken from child benefit?

Duration: 07:28

End comments and credits

David Dimbleby gives details of next week's programme.

Duration: 00:58

Credits

| Role | Contributor |
| --- | --- |
| Presenter | David Dimbleby |
| Participant | Philip Hammond |
| Participant | John Denham |
| Participant | Caroline Lucas |
| Participant | General the Lord Dannatt |
| Participant | Polly Toynbee |
| Executive Producer | Steve Anderson |