Main content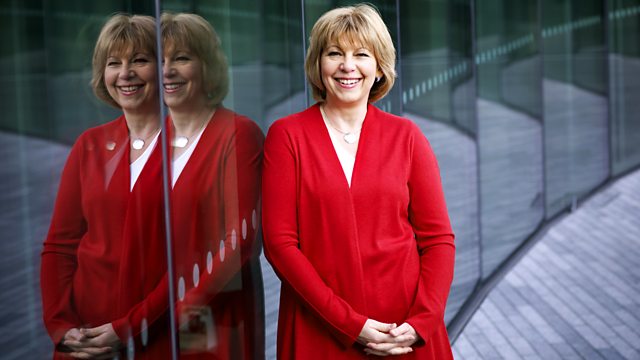 With Penny Gore. Wagner: Rienzi Overture. Barber: Adagio for Strings. Grieg: Piano Concerto in A minor. William Schuman: Symphony No 5. Barber: Under the willow tree (Vanessa).
How do you link Barry Manilow and Alan Greenspan (Chairman of the USA Federal Reserve till 2007) in a Radio 3 programme? Easy - both are graduates of the prestigious New York "Juilliard School of Music" (Alan Greenspan studied the saxophone with Stan Getz). And as part of a week celebrating two giants of American Music - Samuel Barber and William Schuman - we are including graduates from both the Juilliard School and the Curtis Institute. These two music education establishments are connected with both composers, and through their doors has emerged so much musical talent which we celebrate this week.
In today's programme, Penny Gore presents two instrumental soloists from the Juilliard School - pianist Stephen Hough in Greig's Piano Concerto, and violinist James Ehnes in Brahms Violin concerto.
Also in today's programme, Barber's Adagio for Strings, William Schuman's 5th Symphony, and songs by Barber, specially recorded for the programme by the BBC Singers and Bob Chilcott, and a piece by Barber for orchestra called "Souvenirs" - a series of dance movements, also specially recorded for the programme, this time by the BBC Philharmonic and Clark Rundell.
Wagner: Rienzi Overture
BBC Scottish Symphony Orchestra
Vassily Sinaisky, conductor
2.15pm
Barber: Adagio for Strings
BBC National Orchestra of Wales
Rory MacDonald (conductor)
2.25pm
Grieg: Piano Concerto in A minor
Stephen Hough, piano
BBC Philharmonic
Gianandrea Noseda, conductor
2.55pm
William Schuman: Symphony No.5
BBC Symphony Orchestra
Grant Llewellyn, conductor
3.30pm
Barber: Under the willow tree (from Vanessa)
Sure on this shining night
The monk and his cat
BBC Singers
Richard Pearce, piano
Bob Chilcott, conductor
4pm
Brahms: Violin Concerto
James Ehnes, violin
BBC Philharmonic
Gunther Herbig, conductor
4.40pm
Barber: Souvenirs
BBC Philharmonic
Clark Rundell, conductor
Precis for the week:
2010 is the centenary of the births of two American giants of music - Samuel Barber and William Schuman.
In the afternoons this week we will be hearing two symphonies by each composer across the week and more music in performances specially recorded for these programmes.
We will also hear performances from graduates of two of the most influential musical establishments on the eastern seaboard of the USA - the Juilliard School of Music in New York and the Curtis Institute in Philadelphia, with which Schuman and Barber are associated.
William Schuman's musical career began as a teenager in 1920s New York collaborating with Frank Loesser (Guys and Dolls, Baby, It's Cold Outside), but then the curious teenager took a chance and went to a classical concert in the Carnegie Hall. That was it - "The visual thing alone was astonishing. But the sound! I was overwhelmed. I had never heard anything like it. The very next day I decided to become a composer." - which he did, dropping out of business school and eventually becoming the president of the Juilliard School of music (1945-1961), where he founded the Juilliard Quartet.
Samuel Barber was born in Pennsylvania and became interested in music at an early age. Aged 9, he wrote a letter to his mother:
"Dear Mother: I have written to tell you my worrying secret. Now don't cry when you read it because it is neither yours nor my fault. I suppose I will have to tell it now, without any nonsense. To begin with I was not meant to be an athlete. I was meant to be a composer, and will be I'm sure. I'll ask you one more thing .- Don't ask me to try to forget this unpleasant thing and go play football."
By 14 Samuel Barber was enrolled in the Curtis Institute in Philadelphia, and by his late teens was composing seriously and had early successes - maybe his best known piece the "Adagio for Strings" was arranged from an existing quartet when Barber was 28.
More episodes
Previous
You are at the first episode