Main content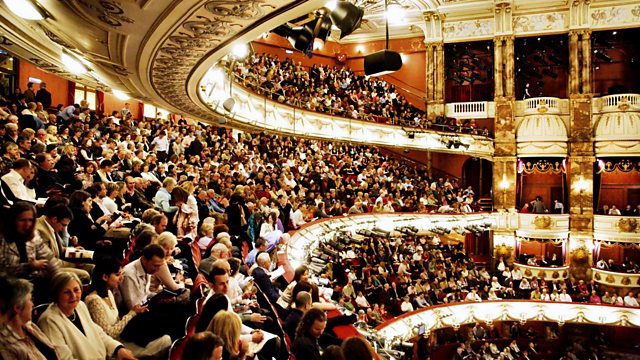 Strauss's Ariadne auf Naxos
Donald Macleod presents a performance by Welsh National Opera of Strauss's opera Ariadne auf Naxos, in a revival of Neil Armfield's production. Stars mezzo Sarah Connolly.
Donald Macleod is at the Wales Millennium Centre for Richard Strauss's paradoxically light-hearted confection "Ariadne auf Naxos". Welsh National Opera's revived production by director Neil Armfield spins a web of contradictions and contrasts, in which boisterous comedy and tragedy collide. Along the way, Strauss manipulates the characters appearing in a Viennese businessman's theatrical entertainment, to explore some fascinating themes: the spiritual versus the material world, the nature of theatre, love and death and, ultimately the power of music.
Mezzo soprano Sarah Connolly returns to the role of the gifted and much put upon young Composer. The star of the Composer's masterpiece, the Prima Donna, later Ariadne, is soprano Orla Boyan, making her debut with WNO. Also making their debuts are Ricardo Tamura in the tenor role of Bacchus and soprano Gillian Keith in the pyrotechnic role of Zerbinetta. WNO's music director, Lothar Koenigs, conducts.
Major-Domo ..... Eric Roberts
Music Master ..... Robert Poulton (baritone)
Composer ..... Sarah Connolly (mezzo soprano)
Bacchus ..... Ricardo Tamura (tenor)
Lackey ..... Stephen Wells (bass)
Officer ..... Philip Pooley (tenor)
Wig-Maker ..... George Newton-Fitzgerald (bass)
Zerbinetta ..... Gillian Keith (soprano)
Ariadne ..... Orla Boylan (soprano)
Dancing Master ..... Stephen Rooke (tenor)
Naiad ..... Mary-Jean O'Doherty (soprano)
Dryad ..... Patricia Orr (alto)
Echo ..... Joanne Boag (soprano)
Harlequin ..... Owen Webb (baritone)
Scaramuccio ..... Aled Hall (tenor)
Truffaldino ..... Julian Close (bass)
Brighella ..... Wynne Evans (tenor)
Orchestra of Welsh National Opera
Conductor ..... Lothar Koenigs.
Clips