Main content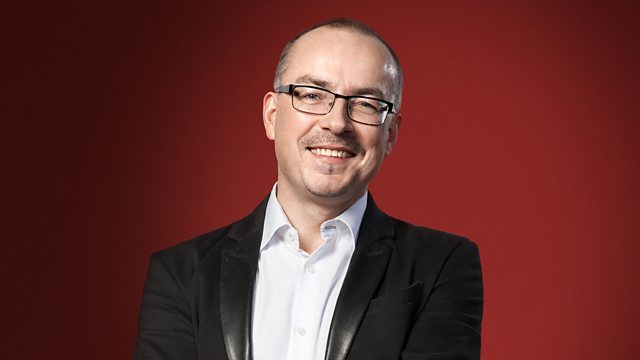 Building a Library: Honegger - Symphony No 3
With Andrew McGregor. Including Building a Library: Honegger - Symphony No 3; Stephen Plaistow on Schumann's less well-known piano works; Disc of the Week: Verdi - Requiem.
Andrew McGregor introduces CD Review, Radio 3's weekly programme devoted to what's new in the world of recorded music.
In this week's programme (timings are approximate):
09.05am
BEETHOVEN: Symphonies No.4 in B flat and 6 in F "Pastoral"
Budapest Festival Orchestra / Ivan Fischer (conductor)
Channel Classics CCS SA 30710 (Hybrid SACD)
KREUTZER: Violin Concertos Nos. 17, 18 and 19
Axel Strauss (violin) / San Francisco Conservatory Orchestra /Andrew Mogrelia (conductor)
Naxos 8.570380 (CD)
RIES: "Piano Concertos Vol. 4": Piano Concerto in C minor; Concerto Pastoral; Introduction et Rondeau Brilliant
Christopher Hinterhuber (piano) / Borunemouth SO / Uwe Grodd (conductor)
Naxos 8.572088 (CD)
09.30am Building a Library
Jonathan Swain surveys currently available recordings of Honegger's Symphony No.3, "Symphonie Liturgique" and makes a personal top recommendation.
First choice:
c/w POULENC: Gloria
Royal Concertgebouw Orchestra / Mariss Jansons (conductor)
RCO LIVE RCO0003 (Hybrid SACD)
10.20am New Releases
VIVALDI: Ottone in Villa
Maria Maura Martorana (Cleonilla), Tuva Semmingsen (Ottone), Florin Cezar Ouatu (Caio Silio), Luca Dordolo (Decio), Marina Bartoli (Tullia) / L'Arte dell'Arco / Federico Guglielmo (conductor)
Brilliant Classics 94105 (2 CDs, budget price)
VIVALDI: Ottone in Villa
Sonia Prina (Ottone), Julia Lezhneva (Caio Silio), Veronica Cangemi (Cleonilla), Roberta Invernizzi (Tullia), Topi Lehtipuu (Decio) / Il Giardino Armonico / Giovanni Antonini (director)
Naïve OP 30493 (2 CDs)
10.50 Schumann Round-up
Stephen Plaistow mines the rich seam of Schumann's lesser-known piano music, and makes personal recommendations from the following recordings:
SCHUMANN: Kinderszenen; Kreisleriana; Humoreske
Radu Lupu (piano)
Decca 440 4962 (CD)
SCHUMANN: Humoreske; Novelletten Op.21; Piano Sonata in F minor; Nachstucke Op.23/4
Andras Schiff (piano)
ECM 1806-07 (2 CDs)
SCHUMANN: Fantasie in C; Faschingsschwank aus Wien; Papillons
Sviatoslav Richter (piano)
EMI 5752332 (CD, budget price)
SCHUMANN: Etudes Symphoniques; Davidsbundlertanze; Kinderszenen; Piano Concerto; Piano Trio etc.
Alfred Cortot (piano) et al
Andromeda ANDRCD5012 (3 CDs, budget price)
SCHUMANN: Fantasie in C; Waldszenen Op.82; Fantasiestucke Op.12; March Op.76/2
Sviatoslav Richter (piano)
Supraphon SU 37952 (CD)
LISZT: Piano Sonata; SCHUMANN: Arabesque Op.18; Fantasiestucke Op.12/7; plus works by Chopin, Scarlatti, Poulenc et al.
Vladimir Horowitz (piano)
Naxos 8110606 (CD, budget price)
SCHUMANN: Papillons; Waldszenen; Kreisleriana; Humoreske etc.
Wilhelm Kempff (piano)
DG 477 8693 (5 CDs, budget price)
"The Genius of Dino Ciani"
Including SCHUMANN: Noveletten Op.21; plus works by Debussy, Weber and Bartok
Dino Ciani (piano)
Brilliant Classics 94069 (3 CDs, budget price)
11.45am Disc of the Week
VERDI: Requiem
Barbara Frittoli (soprano), Olga Borodina (mezzo), Mario Zefferi (tenor), Ildar Abdrazakov (bass) / Chicago SO & Chorus / Riccardo Muti (conductor)
CSO Resound CSOR 9011006 (2 CDs) / CSOR 9011008 (2 Hybrid SACDs)