Main content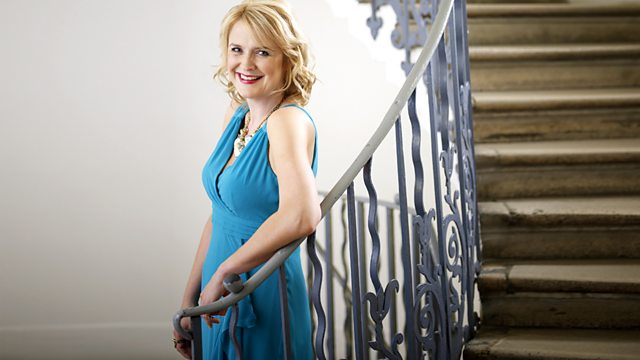 Tuesday - Sarah Walker
With Sarah Walker. Dvorak: The Noonday Witch. Gurney: Ludlow and Teme (excerpts). Bartok: The Wooden Prince (excerpt). Dvorak: Song to the Moon (Rusalka). Ireland: Piano Trio No 2.
Today our highlights include Vaughan Williams' stirring London Symphony, three varied performances of the Pas de Trois from Tchaikovsky's Swan Lake, and from this weeks artist, Anna Netrebko, we've Dvorak's famous Song to the Moon from Rusalka.
10.00
Dvorak
The Noonday Witch Op.108
Royal Scottish National Orchestra
Neeme Jarvi (conductor)
CHANDOS CHAN8530
10.14
Gurney
Ludlow and Teme - Ludlow Fair; On the idle hill of summer
James Gilchrist (tenor)
Fitzwililiam Quartet
Anna Tilbrook (piano)
LINN CKD 296
10.20
Bartok
The Wooden Prince Op.13 (excerpt)
Chicago Symphony Orchestra
Pierre Boulez (conductor)
DG 4358632
10.31
Trad. Moroccan
Dance de l'ame
Driss El Maloumi (oud)
Pablo Estevan (bendir)
ALIA VOX ASVA 9848
10.36
Tchaikovsky
Three different performances of the Pas de Trois from Swan Lake, Act I
10.48
Dvorak
Rusalka - Song to the Moon
Anna Netrebko (soprano)
Vienna Philharmonic Orchestra
Gianandrea Noseda (conductor)
DG 4742402
10.54
Ireland
Piano Trio No.2 in E
Gould Piano Trio
NAXOS 8.570507
11.08
Gibbons
Thou God of Wisdom
Winchester Cathedral Choir
David Hill (conductor)
HELIOS CDH55228
11.15
Vaughan Williams
Symphony No.2 - A London Symphony
London Philharmonic Orchestra
Adrian Boult (conductor)
EMI CDM 7640172.