Main content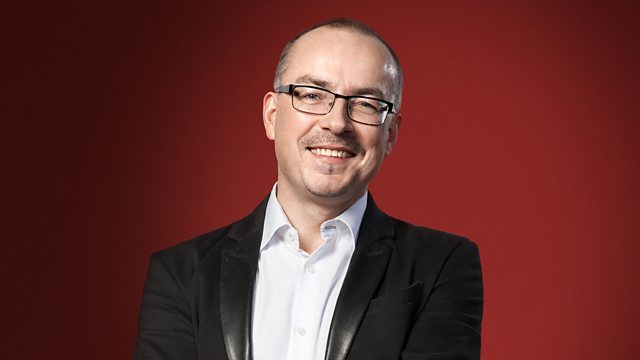 Building a Library: Mahler - Ruckert-Lieder
With Andrew McGregor. Building a Library - Mahler: Ruckert-Lieder; conductor Paul Hillier on recording Weill; Disc of the Week: Debussy: Le martyre de Saint Sebastien; Khamma.
Andrew McGregor introduces CD Review, Radio 3's weekly programme devoted to what's new in the world of recorded music
In this week's programme (timings are approximate):
09.05am
BARTOK: Violin Concertos Nos. 1 & 2
Arabella Steinbacher (violin) / Suisse Romande Orchestra / Marek Janowski (conductor)
Pentatone Classics PTC 5186 350 (Hybrid SACD)
ROZSA: Viola Concerto; BARTOK: Viola Concerto (compl. Serly); SERLY: Rhapsody
Lawrence Power (viola) / Bergen Philharmonic / Andrew Litton (conductor)
Hyperion CDA67687 (CD)
09.35am Building a Library
Hilary Finch assesses currently available recordings of Mahler's Ruckert-Lieder.
Top recommendation:
c/w MAHLER: Kindertotenlieder; Lieder eines fahrenden Gesellen
Janet Baker (mezzo-soprano) / Halle Orchestra / New Philharmonia Orchestra / Sir John Barbirolli (conductor)
EMI 5669812 (CD)
10.20am New Releases
STRAUSS: Oboe Concerto; Serenade Op.7; Suite Op.4
Francois Leleux (oboe) / Swedish RSO / Daniel Harding (conductor)
Sony Classical 88697 748692 (CD)
The Virtuoso Clarinet
Music by Weber, Messager, Rachmaninov, Gershwin, Milhaud, Giampieri, Lovreglio, Milton
Michael Collins (clarinet) / Piers Lane (piano)
Chandos CHAN10615 (CD)
Fröst & Friends
Encores by Scriabin, Bach, Rimsky-Korsakov, Messager, Rachmaninov, Chopin et al.
Martin Fröst (clarinet) / Roland Pöntinen (piano)
BIS-SACD-1823 (hybrid SACD)
LIEBERMANN: Flute Concerto; HUE: Fantaisie; POULENC: Flute Sonata; NIELSEN: Flute Concerto
Katherine Bryan / RSNO / Paul Daniel (conductor)
Linn Records CKD 367 (hybrid SACD)
Bassoon Concertos by MOZART, CRUSELL, ROSSINI; KREUTZER: Variations in B flat
Karen Geoghegan (bassoon) / BBC Philharmonic / Gianandrea Noseda (conductor)
Chandos CHAN 10613
11.10am Interview
Andrew talks with choral conductor Paul Hillier about recent recordings. Including extracts from the following:
WEILL: Das Berliner Requiem; Vom Tod in Wald; MILHAUD: Cantate de la Guerre; Cantate de la Paix; HINDEMITH: Der Tod; STRAVINSKY: Octet for Wind Instruments
Flemish Radio Choir / I Soloisti del Vento / Paul Hillier (conductor)
Glossa CCDSA922207(Hybrid SACD)
SCHUTZ: Weinachtshistorie; Auferstehunghistorie
Ars Nova Copenhagen / Concerto Copenhagen / Paul Hillier (conductor)
Dacapo 8.226058
SCHUTZ: Lukas-Passion
Ars Nova Copenhagen / Paul Hillier (conductor)
Dacapo 8.226019
SCHUTZ: Die Sieben Worte
Ars Nova Copenhagen / Paul Hillier (conductor)
Dacapo 8.226093
BUXTEHUDE: Scandinavian Cantatas
Theatre of Voices / Paul Hillier (conductor)
Dacapo 6.220534
11.50am Disc of the Week
DEBUSSY: Orchestral Works Vol. 4 inc. Le Martyre de Saint Sébastien; Khamma
Orchestre National de Lyon / Jun Märkl (conductor)
Naxos 8.572297 (CD)