Main content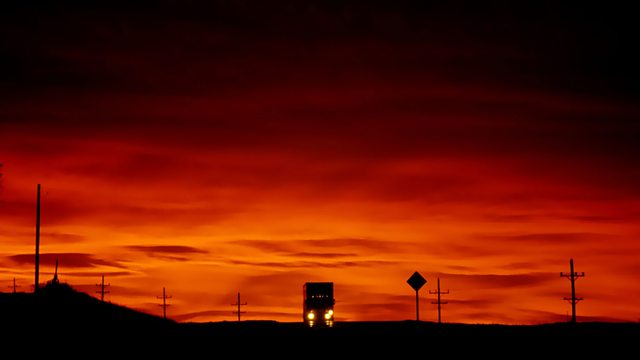 04/11/2010
Presented by Jonathan Swain.
Presented by Jonathan Swain
1:01 AM
Whitacre, Eric [1970-]
Three Songs of Faith
Marika Scheele (solo soprano), Sveriges Radiokören , Peter Dijkstra (conductor)
1:15 AM
Messiaen, Olivier [1908-1992]
Cinq Rechants
Sveriges Radiokören , Peter Dijkstra (conductor)
1:34 AM
Holten, Bo [b.1948]
The Marriage of Heaven and Hell - Six Poems by William Blake
Jenny Ohlson (solo soprano), Sveriges Radiokören , Peter Dijkstra (conductor)
2:00 AM
Schubert, Franz (1797-1828)
Octet in F (D.803)
Niklas Andersson (clarinet), Henrik Blixt (bassoon), Hans Larsson (horn), Jannica Gustafsson (violin), Martin Stensson (violin), Håkan Olsson (viola), Jan-Erik Gustafsson (cello), Maria Johansson (double bass)
3:01 AM
Mozart, Wolfgang Amadeus (1756-1791)
Symphony No.41 in C major (K.551) 'Jupiter'
Oslo Philharmonic Orchestra, Herbert Blomstedt (conductor)
3:40 AM
Rakhmaninov, Sergey (1873-1943), added violin part by Kreisler, Fritz (1875-1962)
Two Songs: When night descends in silence (Afanasi Fet/Edwin Schneider); Oh, stop thy singing, maiden fair (Pushkin/John Kilström)
Fredrik Zetterström (baritone), Tobias Ringborg (violin), Anders Kilström (piano)
3:49 AM
Strauss, Richard (1864-1949)
Till Eulenspiegel (Op.28)
Polish Radio National Symphony Orchestra, Antoni Wit (conductor)
4:04 AM
Frederick the Great (1712-1786)
Sonata in C minor for flute & basso continuo
Konrad Hünteler (flute), Wouter Möller (cello), Ton Koopman (harpsichord)
4:13 AM
Forestier, Mathurin (flc.1500-1535)
Agnus Dei - 'Baises moy'
Huelgas Ensemble; Paul van Nevel (director)
4:18 AM
Mendelssohn, Felix (1809-1847)
Venetian Boat Song (Op.30 No.6) - from 'Songs Without Words', book II
Jane Coop (piano)
4:22 AM
Strauss, Johann Jr (1825-1899)
Rosen aus dem Süden, waltz (Op.388)
Danish Radio Concert Orchestra, Roman Zeilinger (conductor)
4:31 AM
Erkel, Ferenc (1810-1893)
Duo Brillant
Ferenc Szecsódi (violin), István Kassai (piano)
4:49 AM
Rossini, Gioacchino (1792-1868)
Overture - La Gazza ladra
Oslo Philharmonic, Nello Santi (conductor)
5:01 AM
Dvorák, Antonín (1841-1904)
Slavonic Dance No. 10 in E minor (Op.72 No.2)
Bergen Philharmonic Orchestra, Juanjo Mena (conductor)
5:07 AM
Schubert, Franz (1797-1828)
Impromptu No.3 in B flat major (from 4 Impromptus D.935) (1828)
Ilze Graubina (piano)
5:17 AM
Blockx, Jan (1851-1912)
Flemish Dances
BRT Philharmonic Orchestra Brussels, Alexander Rahbari (conductor)
5:30 AM
Stradella, Alessandro (1644-1682)
Sarà ver ch'io mai disciolga
Emma Kirkby (soprano), David Thomas (bass), Alan Wilson (harpsichord), Jakob Lindberg (lute), Anthony Rooley (director & lute)
5:35 AM
Mozart, Wolfgang Amadeus (1756-1791)
5 movements from the ballet music "les Petits riens" (K.299b)
Danish Radio Sinfonietta/Dr; Adám Fischer (Conductor)
5:46 AM
Suriani Germani, Alberta (b.19??)
Partita
Branka Janjanin-Magdalenic (harp)
5:56 AM
Andriessen, Hendrick (1892-1981)
Concertino for cello and orchestra
Michael Müller (cello), Netherlands Radio Chamber Orchestra, Thierry Fischer (conductor)
6:07 AM
Buxtehude, Dietrich (1637-1707)
Passacaglia in D minor (BuxWV.161)
Bernard Lagacé (Beckerath organ of the Church of the Immaculate Conception, Montréal)
6:14 AM
Bach, Johann Sebastian (1685-1750)
Cantata no.36c (BWV.36c) 'Schwingt freudig euch empor'
Mona Julsrud (soprano), Tuva Semmingsen (mezzo-soprano), Jerker Dahlin (tenor), Frank Havröy (bass), Oslo Cathedral Choir (Terje Kvam choirmaster), Christian Schneider & Erik Niord Larsen (oboe d'amore) Kjell Arne Jørgensen & Miranda Playfair (violin), Dan Styffe (bass), Hans Knut Sveen (harpsichord)
6:44 AM
Kuffner, Joseph (1776-1856) [previously attrib. Weber, Carl Maria von (1786-1826)]
Quintet in B flat major (Op.32)
Joze Kotar (clarinet), Slovene Philharmonic String Quartet
6:55 AM
Herbert, Victor (1859-1924), arr. Otto Langey
March of the Toys (from the operetta 'Babes in Toyland', 1903)
Edmonton Symphony Orchestra, Uri Mayer (conductor).