Main content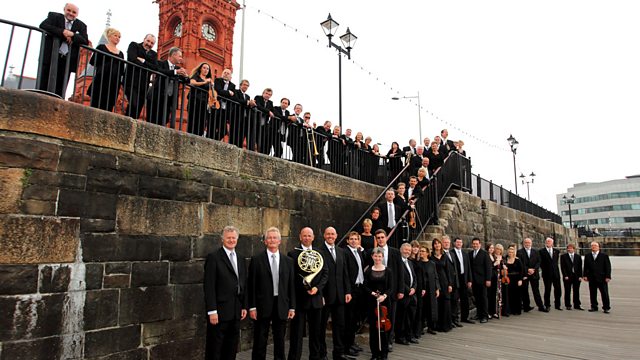 The BBC NOW perform in West Wales. Beethoven: Symphony No 1. Mathias: Organ Concerto. Mozart: Symphony No 35. Gliere: Harp Concerto. Delius: Summer Evening. Plus Vaughan Williams.
BBC National Orchestra of Wales - around Wales and beyond
Each season the BBC National Orchestra of Wales gives concerts throughout the principality, visiting festivals and promoting its own seasons of 'North Wales Tours' as well as appearing in the South, including its home at BBC Hoddinott Hall.
In this week of Afternoon on 3 we visit some of the festivals and venues through Wales, with comments from the players, and in Friday's programme we venture further afield and discover the strong ties between Wales and Italy. Presented by Penny Gore.
Today - West Wales
Fishguard and St. Davids are both regular fixtures in the orchestral diary, not only are they great musical festivals, they are also two of the most picturesque parts of Pembrokeshire, where the sun never ceases to shine - at least when the orchestra visits. St. Davids Cathedral hosts its festival for a week each May, in the charming Romanesque cathedral, nestling in the hills. There's been a church on the site since the 6th century, and today the impressive ruins of the medieval Bishop's Palace stand opposite the cathedral, reminding us of the importance of this historical site, home to the patron saint of Wales.
This year the BBC National Orchestra of Wales visited the festival with young Scottish conductor Garry Walker. They brought with them home-grown Welsh music in the shape of the organ concerto by William Mathias, who died in 1992. Today marks the end of a year celebrating his 75th anniversary. Young British organist David Goode is the soloist in this atmospheric work which is based on the Stations of the Cross. There's more music by Mathias on Wednesday, when we hear him conduct his own Anniversary Dances in an archive BBC recording.
We also visit Fishguard and a concert from the 2008 Festival. For many travellers, Fishguard is the point of departure for the ferry to Ireland, but it's also home to one of the longest running music festivals in Wales, founded in 1969. We're in the company of two fellow West Walians - conductor Grant Llewellyn and harpist Catrin Finch. Grant comes from Tenby, and for previously held the position of Associate Guest Conductor with the orchestra. Catrin is affectionately known as the "Queen of Harps", after being harpist to H.RH the Prince of Wales (2000-2004). The Glier is a swashbuckling concerto, worthy of the return of a hero to her native land.
Beethoven: Symphony No.1in C major
Garry Walker, conductor
2.35pm
Mathias: Organ Concerto
David Goode, organ
Garry Walker, conductor
3.05pm
Mozart: Symphony No.35 in D major "Haffner"
Garry Walker, conductor
3.30pm
Gliere: Harp Concerto
Catrin Finch, harp
Grant Llewellyn, conductor
Delius: Summer Evening
Grant Llewellyn, conductor
4.05pm
Vaughan Williams: Symphony No.5 in D major
Grant Llewellyn, conductor.
More episodes
Previous
You are at the first episode