Main content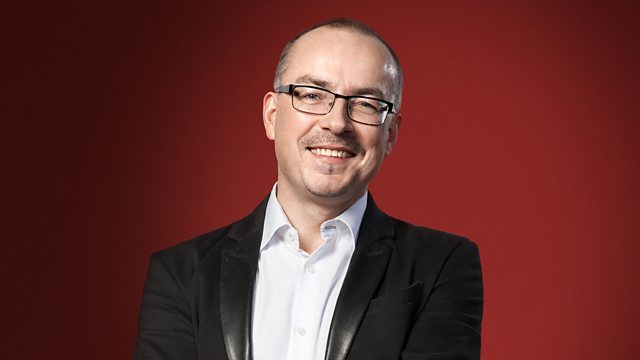 Building a Library: Bach: Organ Music
Andrew McGregor with what's new in the world of classical music recordings including: 9.30am Building a Bach Organ Music collection with Stephen Farr.
Andrew McGregor with what's new in the world of classical music recordings, including:
09.05am
SIBELIUS EDITION Vol.11 – Choral Music
The complete works for choir a cappella and with piano/organ accompaniment. Including: Rakastava, Venematka, Sydameni laulu, Isänmaalle, Finlandia Hymn, Chorales, Jager March, Giv mig ej glans, Cantata for the University Graduation Ceremonies of 1897, Origin of Fire and extracts from Kullervo
Performers include: Helena Juntunen (soprano) / Johanna Rusanen (soprano) / Monica Groop (mezzo-soprano) / Mika Pohjonen (tenor) / Jorma Hynninen (baritone) / Folke Gräsbeck (piano) / Ilmo Ranta (piano) / YL Male Voice Choir / Matti Hyokki; Orphei Drangar / Henrik Wikstrom; Jubilate Choir / Astrid Riska; Dominante Choir / Seppo Murto; Florakoren
BIS-CD-1930/32 (6 CDs)
SIBELIUS: Symphonies Nos. 1 in E minor and 3 in C
New Zealand Symphony Orchestra / Pietari Inkinen (conductor)
Naxos 8.572305 (CD)
SIBELIUS: Violin Concerto; The Bard Op.64; The Wood Nymph Op.15
Frank Peter Zimmerman (violin) / Helsinki Philharmonic / John Storgards (conductor)
Ondine ODE 1147-2 (CD)
09.35am Building a Library Special
BACH: Organ works
Stephen Farr joins Andrew to discuss some of the issues to consider when looking for a complete collection of Bach's organ music.
Recommended sets include:
Bernard Foccroulle (organ)
Ricercar RIC289 (16 CDs)
Marie-Claire Alain (organ) – digital recordings from 1990s
Erato – currently deleted, due for reissue April 2011
Stephen Farr is a prize-winning international organist and scholar. A former cathedral organist, he is now a freelance organist and continuo player.
10.40am
SIBELIUS: String Quartet in D minor Op.56; SCHOENBERG: String Quartet No.1 in D minor Op.7
Tetzlaff Quartet
Avi Music 855 3202 (CD)
10.50am New Releases
Jeremy Summerly joins Andrew to discuss new and recent releases of choral music, with extracts from the following:
Ikon II – 19th Century Russian choral music
Holst Singers / Stephen Layton (conductor)
Hyperion CDA67756 (CD)
JOSQUIN DESPREZ: Masses de l'Homme armee; Missa Super Voces Musicales; Missa Sexti Toni Metamorphoses / Maurice Bourbon (conductor)
Calliope CAL9441 (CD)
VYTAUTAS MISKINIS: Time is Endless & other choral music
The Choir of Royal Holloway / Rupert Gough (conductor)
Hyperion CDA67818 (CD)
VYTAUTAS MISKINIS: Thoughts of Psalms & other choral music
Kammerchor consonare / Almut Stumke (conductor)
Carus CARUS83459 (CD)
ANDRE JOLIVET: Epithalme; Madrigal; Missa Uxor Tua
SWR Vokalensemble Stuttgart / Mitglieder des Rasdio-Sinfonieorchesters Stuttgart / Marcus Creed (conductor)
Carus CARU83445 (CD)
ERIC WHITACRE: Light and Gold & other choral music
The Eric Whitacre Singers / Laudibus / The King's Singers / Pavao Quartet / Hila Plitmann (speaker) / Christopher Glynn (piano) / Eric Whitacre (conductor)
Decca 2743209 (CD)
11.45am Disc of the Week
VILLA-LOBOS: Floresta do Amazonas
Anna Korondi (soprano) / Sao Paulo SO & Choir / John Neschling (conductor)
BIS-SACD-1660 (Hydrid SACD)
Last on
Broadcast