Main content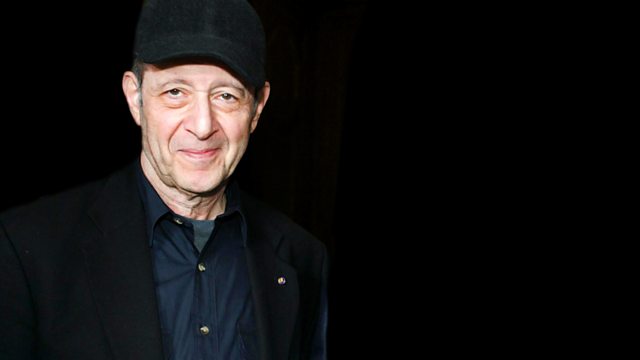 Donald Macleod discusses Steve Reich's early upbringing and influences with the composer, presenting excerpts from the seminal tape piece It's Gonna Rain and Music for 18 Musicians.
Donald Macleod chats exclusively to one of the world's most acclaimed living composers - and presents music spanning his extraordinary musical career.
"There's just a handful of living composers who can legitimately claim to have altered the direction of musical history. Steve Reich is one of them".
So wrote the music critic Andrew Clements of this week's Composer Of The Week - a man whose remarkable music the New York Times also described as "fiercely original, immediately recognisable.and wholly accessible".
Steve Reich's music crosses boundaries - admired by classical concertgoers, rock bands and house music DJs alike. His work rips apart the conventions of genre - making use of percussion, amplification and the latest developments in recording and even video technology - to create something completely new that sits equally happily in the concert hall, art gallery or rock concert (at this year's Manchester International Festival, he opened for Kraftwerk).
Yet unlike the music of many of his contemporaries, Reich's music is immediately accessible to the general public - an exuberant, teeming mass, of short, recurring melodies and rhythms that chime with the pulse of contemporary life. Yet one of the founding fathers of 'minimalism' in music is sometimes a controversial figure - his hypnotic patterns and slowly shifting textures disparaged by some music lovers as overly repetitive...or even simplistic.
Listeners to this week's Composer Of The Week will discover that the truth is anything but...as Donald Macleod discusses a lifetime in music with the composer, in an extended interview conducted at his home in upstate New York in September 2010. Just as composers like Beethoven, Shostakovich and Mahler captured their era in their compositions, so Reich's music distils the pulsating rhythm and routine of 21st century urban life.
Wry, witty and disarmingly candid about the ideas and influences behind his work, Steve Reich is an engaging and insightful guide to his compositions. The series presents a selection of music spanning his entire career, from the 1965 tape piece "It's Gonna Rain" to the premiere on British radio of his Pulitzer Prize-winning "Double Sextet" of 2008.
We also hear some of Reich's most acclaimed works: "Music For 18 Musicians", "Different Trains" for string quartet, the 'video opera' "The Cave", and on Wednesday, a rare complete performance of his extraordinary, African-inspired work "Drumming". The series also features a number of less-heard works, including his Jewish-infused vocal piece "Tehillim" and a rare - and beautiful - foray into orchestral writing, 1987's "The Four Sections".
---
Donald Macleod begins the week by discussing Reich's early upbringing and influences with the composer, featuring excerpts from two vastly different works: his seminal - and radical - tape piece "It's Gonna Rain", and the lush, expressively lyrical "Music For 18 Musicians". The programme also features a work for no instruments at all - the composer's "Clapping Music" - and the gamelan-infused "Music For Mallet Instruments, Voices and Organ".
Last on

More episodes
Previous
You are at the first episode
Broadcasts