Main content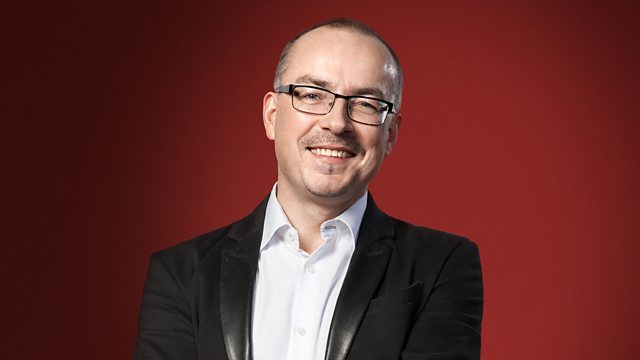 Building a Library Update: Beethoven violin sonatas
With Andrew McGregor. Building a Library Update: Beethoven violin sonatas; Baroque Focus - Bach, Telemann and German contemporaries; Disc of the Week: Szymanowski: Symphony No 3.
Andrew McGregor with Radio 3's regular look at what's new in the world of recorded music.
In this week's programme (timings are approximate):
09.05am
Alison Balsom: Italian Concertos
Trumpet concertos by Vivaldi, Marcello, Albinoni, Cimarosa and Tartini
Alison Balsom (tumpet) / Scottish Ensemble
EMI Classics 4 56094 2 (CD)
VIVALDI: Opera arias for tenor
Topi Lehtipuu (tenor) / I Barocchisti / Diego Fasolis (director)
Naïve OP 30504 (CD)
Three Baroque Tenors
Arias by Handel, Vivaldi, Arne, Caldara, Scarlatti, Boyce et al.
Ian Bostridge (tenor) / The English Concert / Bernard Labadie (conductor)
EMI Classics 6 26864 2
Colori d'Amore
Arias by Scarlatti, Bonancini, Caldara, Matteis and Broschi
Simone Kermes (soprano) / Le Musiche Nove / Claudio Osele (conductor)
Sony Classical 88697 789202
09.35am Building a Library Special
Ivan Hewett joins Andrew to discuss recent releases of Beethoven Violin Sonatas.
Recommended versions include:
Sonatas Nos. 3 in E flat and 9 in A ("Kreutzer")
Viktoria Mullova (violin) / Kristian Bezuidenhout (fortepiano)
Onyx ONYX4050 (CD)
Complete Violin Sonatas
Isabelle Faust (violin) / Alexander Melnikov (piano)
Harmonia Mundi HMC902025-27 (4CD + bonus DVD)
10.35am
BACH: Brandenburg Concertos Nos.1-6; Harpsichord Concertos BWV 1052, 1056; Violin Concerto BWV 1052 (reconstruction)
Apollo's Fire / Elizabeth Wallfisch (violin) / Jeanette Sorrell (harpsichord/director)
Avie AV2207 (2CD)
BACH: Brandenburg Concertos Nos.1-6
La Petite Bande / Sigiswald Kuijken (director)
Accent ACC 24224 (2 Hybrid SACDs)
TELEMANN: The complete Tafelmusik
Freiburg Baroque Orchestra
Harmonia Mundi HMC 902042.45 (4CD)
J H ROMAN: Drottningholmsmusiken (Music for a Royal Wedding)
Helsingborg Symphony Orchestra / Andrew Manze (conductor)
BIS-CD-1602 (CD)
J H ROMAN: Drottningholmsmusiken (Music for a Royal Wedding)
Ensemble 1700 Lund / Göran Karlsson (conductor)
CPO 777 589-2 (CD)
11.45am Disc of the Week
SZYMANOWSKI: Symphony No.3 "Song of the Night"; Violin Concerto No.1
Christian Tetzlaff (violin) / Steve Davislim (tenor) / Vienna Philharmonic / Pierre Boulez (conductor)
Deutsche Grammophon 477 8771 (CD)