Main content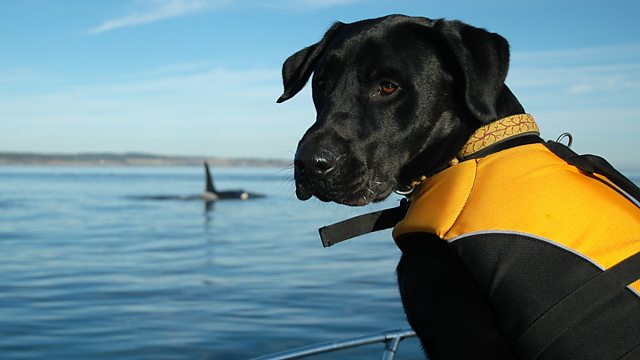 The Dog and the Whale
Sniffer dog Tucker guides a boatful of scientists to floating faeces left by killer whales. The dog's work is revealing what is killing the local whales off the US Pacific coast.
Radio 4 spends a day on a motor boat with Tucker the sniffer dog and a team of zoologists in search of killer whale dung, floating in the waters off the North American Pacific coast.
Tucker is a black Labrador. He is one of an elite team of detection dogs, trained to find the faeces of threatened animals in the cause of conservation.
A lump of faeces is packed with information about an animal's stress levels, fertility, nutritional status and exposure to chemical pollution. There is no other way to reap this data from living whales because whales spend most of their lives underwater. It is impossible to take blood samples from them because of their thick blubber. A trained dog's nose enables researchers from the University of Washington in Seattle to find whale scat in much greater quantities than by relying on their own human senses.
Tucker's work means the scientists can start to piece together an explanation for why a special population of killer whales in North America is at risk of extinction.
This community of orca lives between Vancouver Island and the mainland US Pacific coast. They number about 90 individuals and in recent years they have suffered some terrible times. Three years ago, about one in ten died. Several years earlier, 20% of them were lost.
Could it be the boat loads of whale-watching tourists which are fatally disturbing the animals? Or is it declining numbers of King Salmon - the staple food of this population of killer whales. Alternatively, high levels of industrial and agricultural pollutants from the land might be to blame. According to Professor Sam Wasser who runs the university's Center for Conservation Biology, the hormones and chemicals in the orcas' poop which Tucker might finds suggests a possible toxic interplay of factors.
Presenter Andrew Luck-Baker also talks to Rosalind Rolland, a whale biologist at the New England Aquarium in Boston. Ros was the first to use a detection dog to study whales through their faeces.
Her species is the gigantic North Atlantic Right Whale whose numbers are also perilously low. Her best detection dog was a Rottweiler called Fargo who worked in the drugs squad before moving into whale conservation. Sadly Fargo died last year and is much missed for his work ethic and fearlessness in the face of curious 70 tonne marine mammals.
This programme was first broadcast in October 2010.
Producer/presenter: Andrew Luck-Baker.