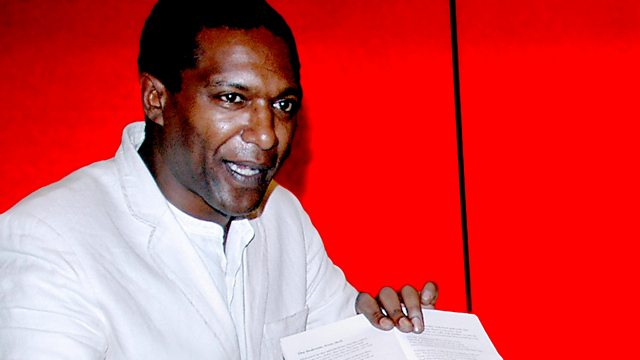 Why I Don't Hate White People
In a recording made at a community centre in Salford, poet, playwright and broadcaster Lemn Sissay presents a humorous, rollercoaster investigation into race.
Poet Lemn Sissay has been invited to do a reading at a community centre in Salford. Recorded in front of a live audience in 2010 this is Lemn's one-man, roller-coaster investigation into why he doesn't hate white people from the unique stand point of a black man who grew up in the area and never met another black person until he was eighteen. Tales of pain and injustice which make you cry with laughter.
Written and performed by Lemn Sissay
Directed by Claire Grove
Lemn arrives at the poetry reading in Salford and finds that the organizer wants him to talk about race. This is Hazel Blears constituency and the BNP represents it in Europe. So he explores his history - being singled out at school, failing to fit into pub culture, being 'loved up' on a Spanish holiday and spat at in the street. And Lemn's quest for answers increasingly frustrates him. Lemn asks on what terms is he being accepted as a writer and performer by this audience. It's 2010. He' s still a black man in a white man's world. Lemn's genial good humour begins to desert him. Anger is taking over. Will he get to the end of the evening and answer his own question?
Lemn Sissay is a poet, playwright, performer and broadcaster and writer in residence at the South Bank. His poetry includes Tender Fingers in a Clenched Fist, Rebel Without Applause and Listener. His plays include Chaos By Design, Storm, and his one-man show Something Dark, which won a RIMA award for Radio 3 in 2004.