Main content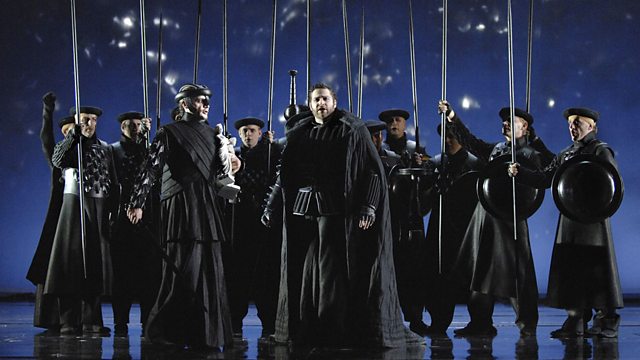 Berlioz: The Trojans (Part 1)
Katie Derham presents Part 1 of Berlioz's epic The Trojans performed by the Netherlands Opera. Plus music from the New York Philharmonic: Schubert: Symphony No 8.
Today's Opera Matinee is Part 1 of Berlioz' epic opera "The Trojans" in a recent performance from The Netherlands Opera.
Les Troyens (The Trojans) is an opera in five acts. The libretto was written by Berlioz himself, based on Virgil's epic poem The Aeneid. The work was Berlioz's largest and most ambitious project, but he never saw it performed in its entirety during his lifetime. Often divided into two parts, we hear the first today, The Capture of Troy. Part Two can be heard at 1400 tomorrow.
The afternoon continues with more performances from the New York Philharmonic.
Presented by Katie Derham.
BERLIOZ : Les Troyens, opera in five acts
Part 1 : The Capture of Troy
Enée ..... Bryan Hymel, tenor
Chorèbe ..... Jean-François Lapointe, baritone
Panthée ..... Nicolas Testé, bass
Narbal ..... Alastair Miles, bass
Iopas ..... Greg Warren, tenor
Ascagne ..... Valérie Gabail
Cassandre ..... Eva-Maria Westbroek, soprano
Didon ..... Yvonne Naef, mezzo-soprano
Anna ..... Charlotte Hellekant, contralto
Hylas ..... Sébastien Droy, tenor, Hélénus
Priam ..... Christian Tréguier, bass
Un chef grec, 1st sentinel ..... Alexander Vassiliev, bass
Un soldat, 2nd sentinel ..... Peter Arink, bass
L'ombre d'Hector, le Dieu ..... Philippe Fourcade, bass
Sinon ..... Christopher Gillett, tenor
Polyxène ..... Michaëla Karadjian
Hécube ..... Danielle Bouthillon, mezzo-soprano
Hector, Iarbas ..... Brian Green, baritone
De Nederlandes Opera Chorus
Netherlands Philharmonic Orchestra
John Nelson (conductor)
c. 1530
Schubert : Symphony No. 8 in B minor, D. 759 ('Unfinished')
New York Philharmonic
Alan Gilbert (conductor)
Bruch : Scottish Fantasy, op. 46
Joshua Bell (violin)
New York Philharmonic
Antonio Pappano (conductor)
Bernstein : Symphonic Dances from 'West Side Story'
New York Philharmonic
Alan Gilbert (conductor).