Main content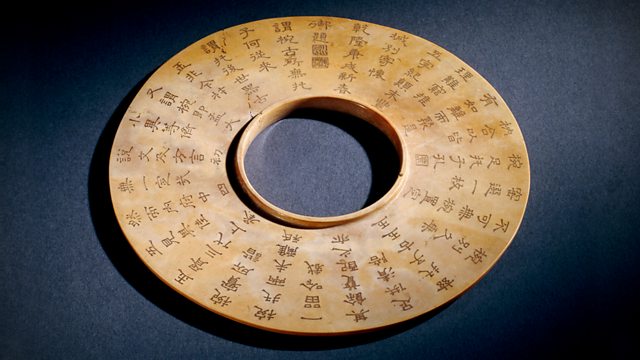 Jade bi
Neil MacGregor is looking at the world of discovery in the 18th century. Today he tells the story of the Chinese Enlightenment through a jade ring.
Neil MacGregor's world history told through the things that time has left behind. Throughout this week, Neil has been looking at Europe's discoveries around the world and its engagement with different cultures during the 18th century - the European Enlightenment project.
Today he describes what was happening in China during this period, as the country was experiencing its own Enlightenment under the Qianlong Emperor. He tells the story through a jade ring (called a Bi) that was probably made around 1500 BC and then written over during the Qing dynasty. What does this prehistoric piece of jade tell us about life in 18th century China? The historian Jonathan Spence and the poet Yang Lian find meaning in this intriguing object.
Producer: Anthony Denselow.
Last on
More episodes
Next
You are at the last episode
About this object
Location: Beijing, China
Culture: Ancient and Imperial China
Period: 1790
Material: Jade
This jade disc, known as a bi, was made in around 1200 BC but is inscribed with a text written in AD 1790. Similar discs have been found in the tombs of ancient Chinese aristocrats but their original function remains unclear. This bi was owned by the Qianlong Emperor of the Qing dynasty (ruled AD 1736 - 95), who had the bi inscribed with a text he had written, commenting on the possible function of the piece and its antiquity. The Qianlong Emperor was renowned for his compositions and wrote around 40,000 texts.

Who were the Qing dynasty?

The Qing dynasty emperors were not native Han Chinese but were Manchus from beyond the northern Chinese border. As the ruler of a vast empire, it was imperative that the Qianlong Emperor demonstrated his understanding of China's history and culture. China's population more than doubled in the 1700s and the economy also boomed. Qing China was regarded by many intellectuals of the European Enlightenment as the greatest empire the world had ever seen.


Did you know?
The Qianlong Emperor is thought to have fathered 18 children.
Reuse and recycle
By Jessica Harrison-Hall, curator, British Museum
Some 3,200 years ago this disk of pale beige jade with a raised central collar was worked for an aristocrat. Archaeologists have discovered similar jades in the tomb of Queen Fu Hao. She was buried in about 1200 BC in Anyang and was a concubine of the Shang King Wu Ding.

Her grave was the only unrobbed grave in the Shang capital city and as a result excavators found 750 jades in her tomb, including some antique jades. So, this jade may predate her own lifetime. The stone was probably imported, unworked, from what we call today Xinjiang province in Western China.

Nearly 3,000 years after it was made, in AD 1790, this object was in the imperial collection and was inscribed at the Qianlong Emperor's court under his instructions with characters which he composed. The Qianlong emperor had many of his vast jade collections inscribed with poems he'd written including antiques, as well as having contemporary pieces made for his poems. Craftsmen added poems to all materials including jade, lacquer and ceramics.

The Qianlong Emperor had a passion for collecting antiques and works of art. His identifications are not always accurate, as here, but the calligraphy itself enhances the object. We know that he and a team of ghost writers compiled 44,920 'verses' – but do not know what proportion of these are inscribed on objects. These verses are like colophons on paintings celebrating his enjoyment and connoisseurship.

As a result of a workshop held at the British Museum in March 2010 we discovered that the bi disc may have a matching white 'Ding' bowl, which is mentioned in the inscription and is now in the Palace Museum, Beijing.

The research continues, and the chapters in this objects life are still being written.

Broadcasts

Featured in...
A History of the World in 100 Objects - objects related to Art.
Podcast
Director of the British Museum, Neil MacGregor, retells humanity's history through objects