Main content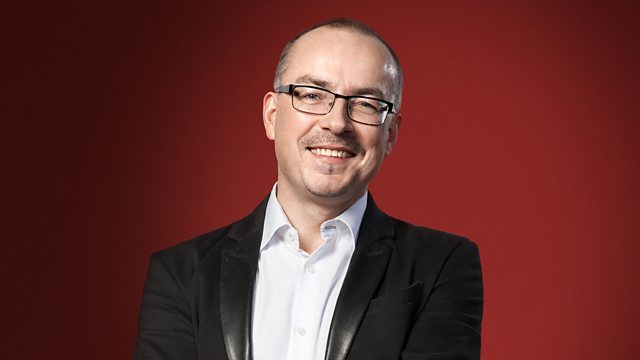 Building a Library: Dvorak's Slavonic Dances, Op 46
With Andrew McGregor. 9.30am Building a Library: Dvorak's Slavonic Dances, Op 46. 10.45am Cliff Eisen on Mozart's opera Idomeneo. 11.50am Disc of the Week: Bach Violin Concertos.
Andrew McGregor introduces CD Review, Radio 3's weekly programme devoted to all that's new in the world of recorded music
09.05am
Buxtehude Opera Omnia XII: Chamber Music Vol. 1
BUXTEHUDE: Sonata in C; Sonata in A; Sonata in D; Sonata (with Suite) in B flat; Sonata in D; Sonata in G; Sonata in D; Sonata in F
Members of The Amsterdam Baroque Orchestra / Ton Koopman (director)
Challenge Classics CC72251 (CD)
Including BLOW: Ode on the Death of Mr Henry Purcell; PURCELL: Here let my life;
Carlos Mena & Damien Guillon (countertenors) / Philippe Pierlot (bass viol, direction) / Ricercar Consort
Mirare MIR109 (CD)
Musical Humors & Lamentations
Including CORBETTA: Varii Scherzi di Sonate: Prelude; La Guitarre Royalle: La Sarabande, Tombeau sur la mort de Madame d'Orleans; DOWLAND: My Lord Willoughby's Welcome Home; HOLBORNE: Almayne; Corranto (The Wanton); PURCELL: Three Parts upon a Ground;
L'Art du Bois
Etcetera KTC1418 (CD)
The Celtic Viol vol.2
I. The Galway Set; II. The Gold Ring Set; III. The Abergeldie Castle Set; IV. The Nathaniel Gow's Set; V. The Lancashire Pipes Set; VI. The Archibald MacDonald Set; VII. The Liverpool Set
Jordi Savall (6 strings treble viol & lyra-viol) / Andrew Lawrence-King (Irish harps & psaltery) / Frank McGuire (bodhran)
AliaVox AVSA 9878 (SACD)
09.35am Building a Library
Dvorak's first set of Slavonic Dances (Op.46) - Rob Cowan's recommendation from the available recordings of Dvorak's own orchestration of the lively, nationalistic dances which helped to make his name.
Dvorak: Slavonic Dances
DVORAK: Slavonic Dances Nos. 1-8; Slavonic Dances Nos. 9-16
DG Originals 4577122 (CD)
OR
Dvorak - Slavonic Dances, Overtures & Symphonic Poems
DVORAK: Slavonic Dances Nos. 1-8; My Home Overture; Hussite Overture; In Nature's Realm Overture; Carnival Overture; Othello Overture; The Water Goblin; The Noon Witch; The Golden Spinning Wheel; The Wild Dove; Symphonic Variations; Slavonic Dances Nos. 9-16
DG Trio E4693662 (3 CDs)
Symphonieorchester des Bayerischen Rundfunks / Rafael Kubelik (conductor)
10.25am
BEETHOVEN: Piano Concerto No. 5 in E flat major, 'Emperor'; Choral Fantasia in C minor
Ronald Brautigam (piano) / Norrköping Symphony Orchestra / Eric Ericson Chamber Choir / Andrew Parrott (conductor)
BIS SACD 1793 (SACD)
R. SCHUMANN: Concerto for piano and orchestra in A minor, op. 54; Introduction and Allegro appassionato in G major, op. 92; Introduction and Allegro Concertante in D minor, op. 134; C. SCHUMANN: Concerto Movement in F minor
Oleg Marshev (piano) / South Jutland Symphony Orchestra / Vladimir Ziva (conductor)
Danacord DACOCD 688 (CD)
CHOPIN: Ballades Nos. 1-4; Piano Concerto No. 2 in F minor, Op. 21
Lise de la Salle (piano) / Dresden Staatskapelle / Fabio Luisi (conductor)
Naïve V5215 (CD)
TCHAIKOVSKY: Piano Concerto No.1 in B flat minor, Op.23; LISZT: Concerto No.1 in E flat, S.124
Alice Sara Ott (piano) / Münchner Philharmoniker / Thomas Hengelbrock (conductor)
Deutsche Grammophon 477 8779 2 (CD)
10.55am
Cliff Eisen talks to Andrew about some recent releases of Mozart's early opera Idomeneo from Adam Fischer in Denmark, a seminal Glyndebourne recording from 1964, and a Neapolitan recording on Naxos.
MOZART: Idomeneo
Gundala Janowitz (Ilia, soprano) / Luciano Pavarotti (Idamante, tenor) / Neilson Taylor (Arbace, baritone) / Enriqueta Tarrés (Electra, soprano) / Richard Lewis (Idomeneo, tenor) / David Hughes (The High Priest of Neptune, tenor) / Dennis Wicks (The Voice of Neptune, bass) / The Glyndebourne Chorus / London Philharmonic Orchestra / John Pritchard (conductor)
Glyndebourne GFOCD006-64 (2CDs)
Richard Croft (Idomeneo) / Bernarda Fink (Idamante) / Sunhae Im (Ilia) / Alexandrina Pendatchanska (Elettra) / Keneth Tarver (Arbace) / Nicolas Rivenq Gran (Sacerdote) / Luca Tittoto (La Voce) / RIAS Kammerchor / Freiburger Barockorchester / René Jacobs
Harmonia Mundi HMC902036-38 (3CDs + DVD)
Kurt Streit (Idomeneo) / Ángeles Blancas Gulín (Ilia) / Iano Tamar (Elettra) / Sonia Ganassi (Idamante) / Jörg Schneider (Arbace) / Dario Magnabosco (Il Gran Sacerdote) / Chorus and Orchestra of the San Carlo Theatre, Naples / Marco Guidarini (conductor)
Naxos 8660250-52 (3CDs)
Christian Elsner (Idomeneo) / Kristina Hammarström (Idamante) / Henriette Bonde-Hansen (Ilia) / Raffaella Milanesi (Elettra) / Christoph Strehl (Arbace) / Göran Eliasson (Nettuno) / Stephen Milling (La Voce) / Danish National Choir / The Danish Radio Sinfonietta / Adam Fischer (conductor)
DaCapo 622058689 (4SACDs)
11.55am Disc of the Week
BACH: Concerto in A minor, BWV 1041; Concerto in E major, BWV 1042; Concerto in G minor, after BWV 1056; Concerto in A major, after BWV 1055
Rachel Podger (violin/director) / Bojan Čičić (violin) / Johannes Pramsohler (violin) / Jane Rodgers (viola) / Alison McGillivray (cello) / Jan Spencer (violone) Christopher Bucknall (harpsichord)
Channel Classics SACD CCSSA30910 (SACD)