Main content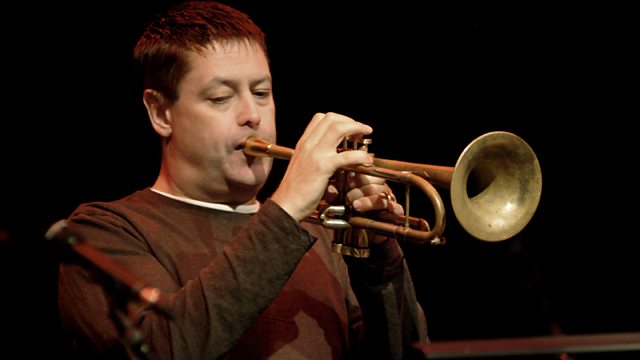 Jazz on the Record
Guy Barker charts the pivotal moments that have changed the direction of jazz. He begins by looking back to the release of the very first jazz record in February 1917.
Guy Barker explores the history of jazz, focusing on the turning points and pivotal events that have shaped the genre, and discovering some great stories and larger-than-life characters along the way.
In its 100-year history, jazz has seen many changes and developments but, unlike other genres, jazz's direction has frequently changed due to a specific event: a momentary decision, an invention, one performance, or one person's idea. Each episode focuses on what jazz was like directly before this junction, the junction itself, and how things subsequently changed.
Renowned jazz trumpeter and composer Guy Barker explores each of these junctions by hearing from the musicians who were there and made it happen, shaping the music as they went. The series features rare archive of jazz greats such as Louis Armstrong, John Coltrane, Coleman Hawkins, Gerry Mulligan and Earl Hines.
There are new interviews with the world's greatest living jazz musicians, such as McCoy Tyner, Wayne Shorter, Ron Carter, Buddy DeFranco, Jimmy Cobb, Kenny Burrell, Reggie Workman, Lou Donaldson, Dave Brubeck, Terry Gibbs, Sir Charles Thompson, Peter Erskine, Larry Coryell, Jeff 'Tain' Watts, Junior Mance, Dick Hyman, Billy Taylor and Albert 'Tootie' Heath. Plus commentary from leading jazz authorities Ted Gioia, Loren Schoenberg, Dan Morgenstern, Stuart Nicholson, Geoffrey Smith and Scott Yanow.
Over ten episodes, Jazz Junctions will take in the following turning points and musicians: the first jazz record; Louis Armstrong and the birth of the jazz solo; Benny Goodman and the Big Band era; Coleman Hawkins and the beginnings of modern jazz; Frank Sinatra and the "sing" era; Miles Davis and the birth of cool; free jazz and jazz-rock; European jazz; and the shape of jazz to come.
Part one, Jazz on the Record, begins in February 1917, with the release of the first jazz record: Livery Stable Blues by the Original Dixieland Jazz Band, led by cornettist Nick LaRocca. Hitherto, jazz had been played on the streets and in the clubs, but only by those who were there to witness it. Recording the music meant that it could be listened to again and again by people all over the world, and most importantly, the music could be studied and imitated. The journey had begun.
But was it that simple? Why was the first record of a black music by a white group? Were they really the first? Was it even jazz? Why has this first great moment in jazz's history caused so much controversy over the years? Leading UK jazz trumpeter Guy Barker travels back to 1910s New Orleans to try to unravel the circumstances surrounding the birth of recorded jazz. The programme features interviews with Dick Hyman, Jimmy LaRocca, Ted Gioia and Scott Yanow; plus archive of Jelly Roll Morton and Nick LaRocca himself.