Main content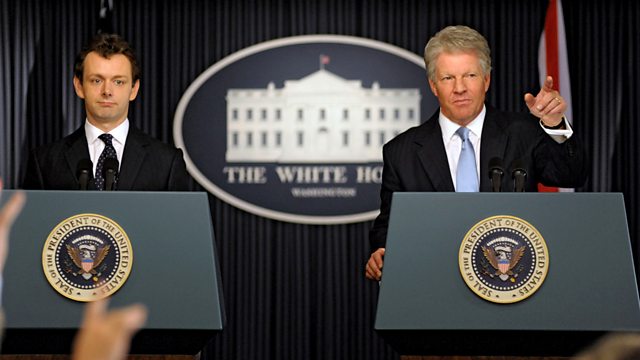 The Special Relationship
Drama examining the relationship between Tony Blair and Bill Clinton as they deal with the Monica Lewinsky scandal and the war in Kosovo. Starring Michael Sheen and Dennis Quaid.
In 1993, Tony Blair was a rising young star in British politics. Three years later, he ran for prime minister, bolstered with a strategy borrowed from President Bill Clinton's own run for office - and began a 'special relationship' with the US president that endured through triumph, conflict and personal scandal.
Political soulmates, the eager, young Blair and the charismatic Clinton dream of remaking the world together in a progressive fashion. Clinton helps Blair make peace in Northern Ireland, and Blair returns the favour by supporting a beleaguered Clinton during the Lewinsky scandal. But the bond is sundered over the festering crisis in Kosovo, as Blair's call for action clashes with Clinton's pragmatic approach. As Blair defiantly goes his own way and Hillary makes her own stunning rise in politics, Clinton realizes that Blair is about to embark on a new era and another 'special relationship' - with incoming president George W Bush.
Credits
| Role | Contributor |
| --- | --- |
| Tony Blair | Michael Sheen |
| Bill Clinton | Dennis Quaid |
| Hillary Clinton | Hope Davis |
| Cherie Blair | Helen McCrory |
| Director | Richard Loncraine |
| Jonathan Powell | Adam Godley |
| Jacques Chirac | Marc Rioufol |
| Alastair Campbell | Mark Bazeley |
| Gordon Brown | Chris Wilson |
| Reporter | John Schwab |
| Intern | Lara Pulver |
| Foreign Policy Advisor | Matthew Marsh |
| Protocol Officer | Nancy Crane |
| Writer | Peter Morgan |
| Producer | Frank Doelger |
| Producer | Tracey Scoffield |
| Producer | Ann Wingate |