Main content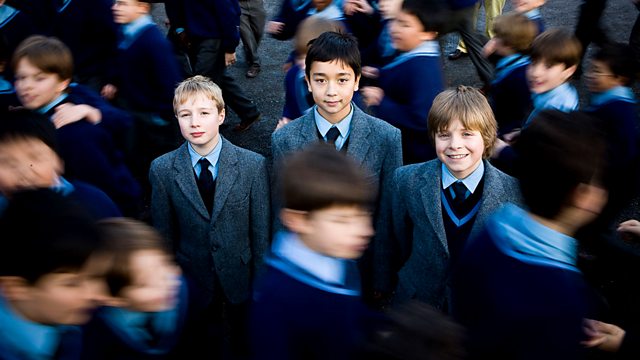 Britain's Youngest Boarders
Documentary following three boys as they leave home for the first time and begin life at Sunningdale, a small family-run prep boarding school in Berkshire.
Documentary following boys as young as seven or eight when they leave home for the first time and start boarding school in England. This film tells the story of three boys - Luke, Louis and Dominic - during their first term at Sunningdale, a small family-run prep school in Berkshire that educates 100 boys, the vast majority of whom go on to top public schools like Eton or Harrow.
Luke is joining his older brother James at Sunningdale. All the boys at the school can only benefit from the small class sizes of ten, but the school's system called 'fortnightly orders' - which places pupils from top to bottom in each class - shows just how academically superior young Luke really is.
Dominic has travelled half way around the world to join Sunningdale. He lives in Shanghai but he will go to school in the UK. He says his mum will find being apart for the ten-week term harder than he will. Dominic's dream is to attend an English public school and after his interview for Harrow, he hopes to be one of the lucky ones to be offered a place.
Louis starts boarding school after leaving his state school in north London. Tearful and homesick, he struggles at first. Getting into the football team and being made captain goes someway to helping Louis feel better, but is it enough to convince him to stay at Sunningdale until the end of term?
From the daily chapel services, to the headmaster's weekly dormitory check, and the boys' very first night in dormitories, we get to understand the magical world of boarding school life from the boy's point of view.